This post is part of a series highlighting the ART bus lines throughout Arlington County and how both residents and visitors alike can take advantage of the ART bus system to vary their commuting options.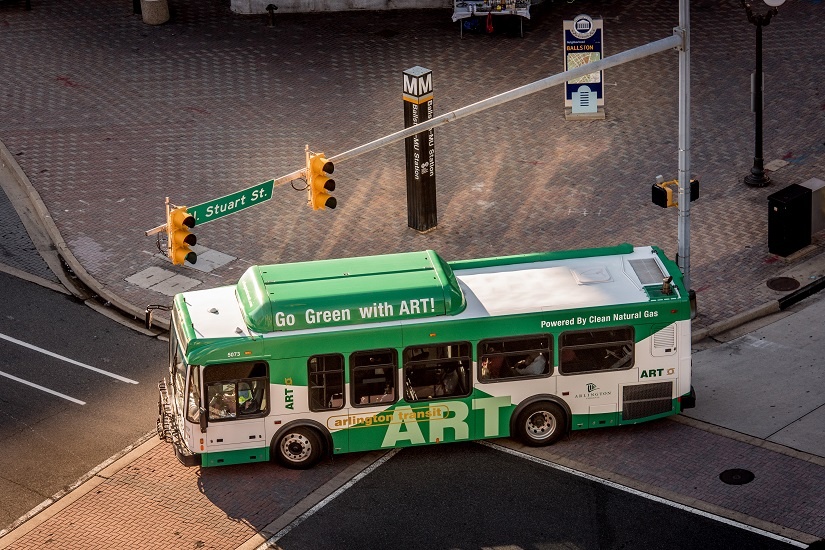 ART 55
The ART 55 bus creates a convenient route between East Falls Church and Rosslyn, giving commuters who live along Lee Highway a comfortable, easy way to get to a Metro Station.
Route Highlights
From the bustling urban village of Rosslyn, through North Arlington along Lee Highway, and ending at East Falls Church, Arlington's western-most Metro Station, this route connects businesses and communities across the County.
Urban Villages Served: Rosslyn, Lee Highway
Route Timings
The ART 55 runs approximately every 15-20 minutes, depending on the time of day Monday-Saturday. Note that Monday-Friday, the following two stops are not used between 7-9am, to bypass traffic and get to Rosslyn quicker: East-bound Lee Highway at N Quinn Street and East-bound Lee Highway at Fort Myer Drive. Get the details on the ART 55 downloadable schedule and always keep tabs on arrivals with the ART real-time tracker.
Metro Station Stops
Connect to the Orange and Silver Lines at both the Rosslyn Metro Station and the East Falls Church Metro Station, or pick up any number of buses to other locations.
Highlighted Stop
For some Arlington history and culture, jump off the ART 55 at the Lee Highway and N Culpeper stop, right in front of the Langston Brown Community Center and Langston High School. Stop into the Community Center for senior and children's classes, then treat yourself at Heidelberg Pastry Shoppe, a favorite Arlington destination for pastries, bread and other European delights.
Walk off your indulgences by heading west along Lee Highway a few short blocks to the Calloway United Methodist Church. This historic church was founded in 1866 by freed slaves, and is the center of a thriving African-American community. In 1959, Calloway members were part of history when four African-American students attended formerly all-white Stratford Junior High School, the first Virginia school to challenge segregation. The Stratford School, currently the home of H-B Woodlawn, was designated Arlington's 38th Historic District in June 2016.
Photo Credit: Sam Kittner/Kittner.com for Arlington Transportation Partners