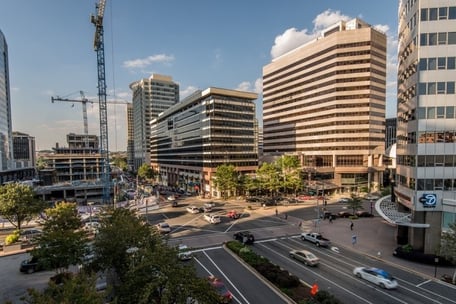 Rosslyn has become quite the exciting urban center. Rosslyn's density, connected amenity base, and numerous trails make it an especially appealing area to explore by foot or bike. In fact, Capital Bikeshare stations in Rosslyn are among the busiest of all Arlington stations.
Roosevelt Island, Iwo Jima, Arlington Cemetery and the Netherlands Carillon are all located nearby, with beautiful scenic paths leading along the Potomac and into DC.
The Rosslyn BID, which won an award for best customer service earlier this year from the Arlington Chamber of Commerce and one of ATP's Champions, provides high-quality, customer-oriented services designed to define, enhance and continually improve Rosslyn. One of its latest initiatives is to improve the pedestrian experience through its Streetscape Elements Master Plan that will feature new, custom designs for parkletts, Wi-Fi enabled streetlights, signage and other cool elements.
Visit Rosslyn: How to Get There
Metro
The Rosslyn Metro Station is served by the Orange, Blue, and Silver Metro lines and also has a Commuter Store conveniently located at the entrance.
Bus
These are just a few of the bus routes that service Rosslyn:
ART 43 : Rush hour service between Courthouse and Crystal City – Let's you avoid the Metro transfer to the Blue line at Rosslyn
ART 45: The most popular ART route. Runs between Rosslyn and Columbia Pike
ART 75: Virginia Square and Shirlington
Metrobus 5A: Bus to Dulles Airport
Metrobus 38B: "Orange Line with a View" that runs between Farragut Square and Ballston
DC Circulator: Cheap and easy transit between DuPont Circle and Rosslyn
Bike
Rosslyn is located right along the Custis and Mount Vernon trails and has several Capital Bikeshare stations spread throughout the area.
Events
The Plaza on 19th, immediately to the left of the Rosslyn Metro Station, features regular outdoor beer gardens in the warmer months that are attended by hundreds of people within the community.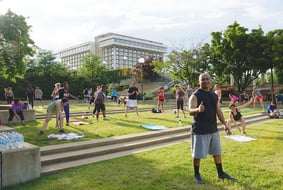 Continue down Lynn Street and you will find Gateway Park, the largest park in Arlington. Gateway is one of Rosslyn's hidden gems, with something for everyone. Fitness gurus from DC to Ballston enjoy everything from outdoor yoga and barre class to the high intensity interval (HIIT) boot camp hosted by the Rosslyn BID.
Gateway Park also hosts Rosslyn's outdoor movie series and a number of musical events, from Throwback Thursday Concerts in the summer to the annual Jazz Festival in September.
Families can also enjoy the Sand Box at Gateway Park, the largest sandplay area in Arlington, which was debuted just last month by the Rosslyn BID.
Keep up to date with future events, including the Halloween Yappy Hour, Marine Corps Marathon and Holiday Market by subscribing to the events e-newsletter.