At the end of February, the Arlington County Board approved a construction contract for the Crystal City Potomac Yard Transitway, a 4.5 mile dedicated transit lane that will connect the Crystal City and Braddock Road Metrorail stations. The Arlington section (seen in the map below), which includes seven new stations, is scheduled to open in early 2015, a year away.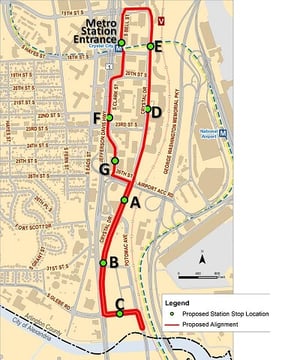 The dedicated lane will allow buses to run efficiently along Route 1, the length of Crystal City and Potomac Yard, improving access beyond Metrorail. Having buses separated from car traffic means less time waiting during peak travel times, while increased passenger capacities means reducing congestion even further. The new stations are expected to have added amenities including real-time arrival information, weather protection, lighting, ADA-accessibility, and raised curbs to facilitate easier boarding, according to the Arlington County website. The Alexandria government website had a report last year showing the construction of the dedicated lanes on their end; visible are smooth roads clearly separated from car traffic.
Another exciting component of the new transitway will be WMATA's new Metroway premium bus service. These specially branded buses will offer a more "luxury" bus ride than the standard Metrobuses, improving rider comfort along the way.
Although the transitway is considered to be a precursor to an eventual streetcar line, it will serve for the time being as the area's first bus rapid transit system. Bus rapid transit (BRT) is defined as an enhanced bus route with dedicated lanes, combining the efficiency of rail with the flexibility of buses. Installed in some US cities and quite successfully around the world, BRT offers a much more user-friendly service.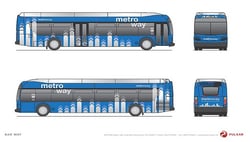 While you look around Crystal City and Potomac Yard for evidence of the new system as construction begins, think about the ways in which a BRT system could simplify your commute or travel in the area. Transferring from Metrorail to Metroway will be as easy as jumping on one of the current bus routes, but with the security of knowing that your bus will not be delayed by traffic. Waiting in the evening for Metroway to take you back to the Metro station means being able to read the news or update your Facebook status without having to switch apps, because the real-time station signs will let you know when your bus is arriving.
Finally, the new bus service, with its cool design, will bring an extra flair to Crystal City and make it easy to get to the great restaurants and retail locations along the route! All of this will add up to big changes, and a more comfortable commute and travel to your destination.
Map courtesy of Arlington County; Metroway image courtesy of WMATA