After nearly three years of construction, Boeing's new regional headquarters has opened near Long Bridge Park. The complex features 322,000 square feet of office space on six floors in one wing and five in the other, as well as a two-story atrium and surrounding street-scape improvements.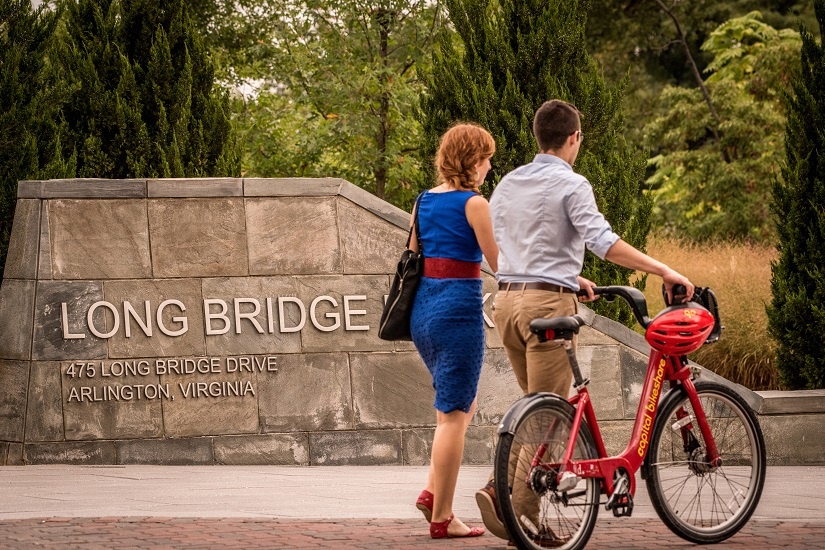 Transportation Amenities
Boeing moved several hundred employees to the Long Bridge building from other locations in the area. Therefore, nearby commuting options and building transportation amenities were important considerations when designing the complex and going through the County's site plan approval process.
The Long Bridge complex features several programs that employees can take advantage of to make their commute to the office or other nearby government agencies a little easier. These include:
Secured and enclosed bicycle parking facilities for 40 bicycles. There are also bike racks for visitors outside of the building that can hold 22 bicycles.
Showers and storage lockers bike commuters may use first-come, first-serve.
Priority parking near garage elevators for up to 37 registered carpools and vanpools, as well as spaces dedicated to fuel efficient vehicles.
Employee Transportation Packets provided to Boeing employees to help orient themselves to various nearby transportation options.
Community Amenities
In addition to the above benefits provided to employees at the building level, local community amenities have been added to make the Long Bridge facility more accessible to employees and visitors. A new Capital Bikeshare station was installed in September at the corner of 6th St and S Ball St—the space for this 15-dock station was provided by Boeing, while the station itself was funded by the Crystal City Business Improvement District.
As a major employer in Arlington County, Boeing has shown a commitment to providing superior transportation programs to make travel easier for its employees and visitors to the new complex. By locating on a previously underutilized plot of land, the new development brings activity and enhancements to the northern part of Crystal City.
Employee Benefits
If your business or property would like to provide additional employee benefits and transportation amenities—connect with Arlington Transportation Partners. Our services are customized to fit every business' unique needs.
Photo Credit: Sam Kittner/Kittner.com for Arlington Transportation Partners