It seems to have been awhile since buses have gotten some attention, compared to their Metrorail and Capital Bikeshare counterparts, so I'm going to take this opportunity to put in a personal plug for commuting by bus. There are some people out there who may not be aware of how easy taking the bus to work can be, or are hesitant to try it out for the first time. I do admit that bus maps are confusing and it can be difficult to figure out which bus goes where, something I've learned from personal experience. I was a learner's permit-toting 15-year old when my friend and I took the bus in an attempt to get from my parent's house to Montgomery Mall in Bethesda, yet somehow we ended up standing on the side of the road in downtown Silver Spring, feeling stupid and waiting for my mom to pick us up. Pathetic, yes, but we did make it to the mall on our second try, and eventually figured it out. If you've never taken the bus before, it can be unnerving, but I assure you non-bus riders, buses really are a great form of transportation and very easy to get the hang of.
Arlington alone has great bus service with over 40 Metrobus and ART routes throughout the county – if you live and/or work in Arlington, chances are that you're near a bus route. While Metrorail works well for my Bethesda to Rosslyn commute, buses are so much more flexible in getting to places that don't have Metro access. Areas like Shirlington and Columbia Pike have fantastic bus service to Crystal City, Rosslyn, DC, and other destinations.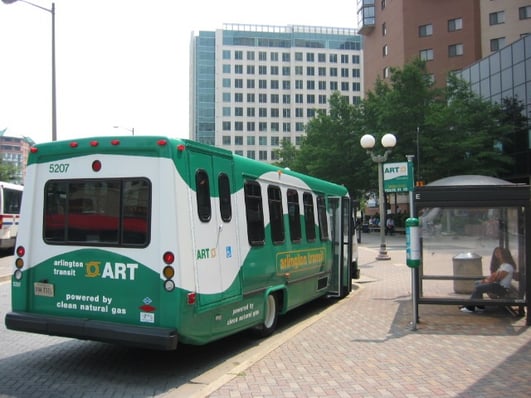 While I mentioned earlier how bus maps can be confusing and hard to read, there are actually a lot of great tools that have made it so much easier to figure out how to get around by bus. WMATA has their Service Nearby tool, which allows you to type in an address, and it will pull up all the bus stops and corresponding routes within 1 mile of the location. It's perfect for figuring out which routes are near your home and workplace. Transit Near Me, a similar app developed by our friends at the Mobility Lab, uses your current location to show all the nearby transit options, including bus stops, within a certain radius. The Next Bus tool tells you when the next bus for a certain route will arrive at a specific stop, which makes it easier to plan your commute. ART also has a YouTube channel with several short videos demonstrating things like how to load your SmarTrip card on buses or how to ride the bus with your bike.
For those of you who don't ride the bus, I hope I have encouraged some of you to consider trying it next time for your commute to work. As with Metrorail, biking, and walking, the bus is a great alternative to driving (No paying for gas! No searching for parking!) and can make getting to work a more enjoyable, productive, and healthier trip.
Be sure to contact ATP to learn more about services that we offer and ways to improve you and your employees' daily commutes.