National Bike Month is a chance to celebrate cycling, encourage first timers to explore this way of movement, and inspire others to discover their neighborhoods by bike. Biking is a low-impact form of movement that helps you travel around the region while enjoying some fresh air, reduce your health care costs, increase your productivity, and reduce traffic congestion.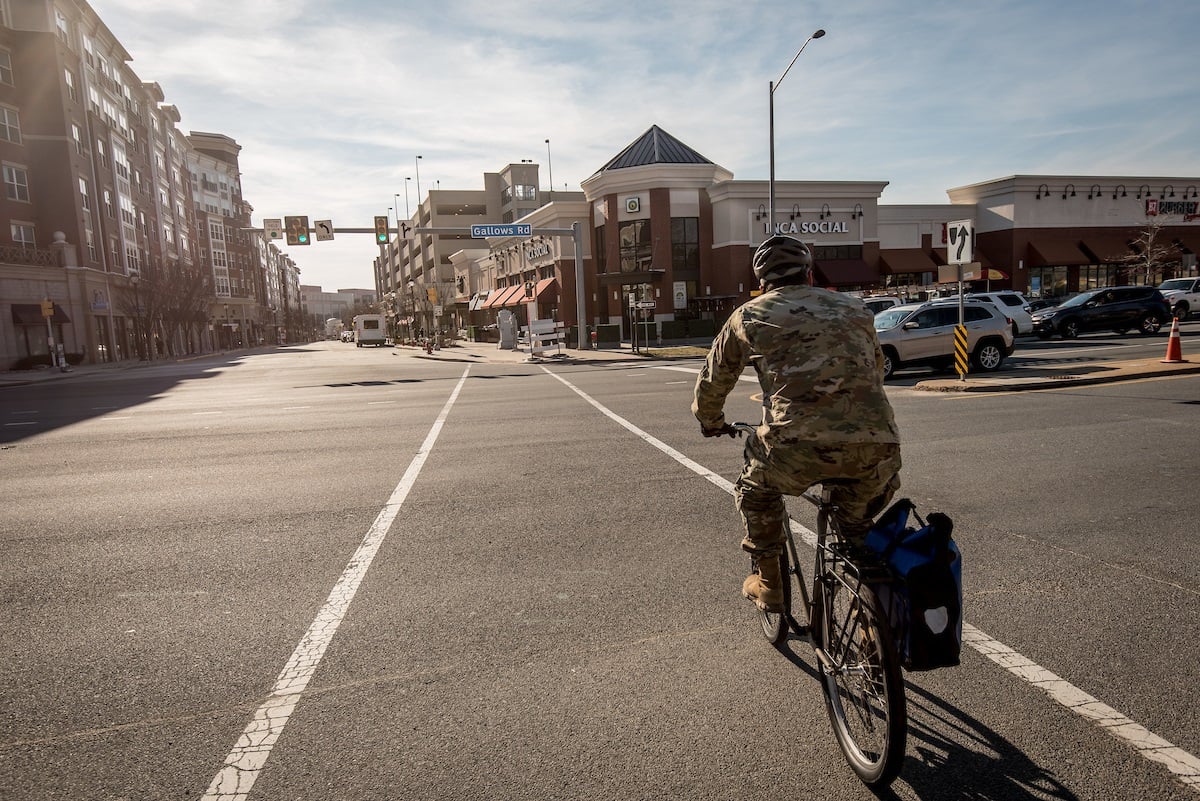 Capital Bikeshare Membership
When I first moved to the Northern Virginia area in 2017, I immediately looked to Capital Bikeshare to provide me with a better idea to see if biking was the right choice for me and my daily commute.
With multiple stations around Northern Virginia, DC, and Maryland, it was very easy to make short and long trips with very little planning. Pulling up the Capital Bikeshare Map was all I needed to do to view the numerous stations around me and the path I was taking.
Plus, this provided me with the time and experience to get comfortable with riding a bike in a new city and to explore which bike was best for me with the help of local bike shop. Now, Capital Bikeshare provides e-bikes to riders, making it even easier for those who are new to biking.
Capital Bikeshare is also affordable as it provides the first 30-mintues of your trip for free and the Capital Bikeshare for All program offers a $5 annual membership for residents of the seven Capital Bikeshare membership jurisdictions who qualify for certain state or federal assistance programs.
Trails Along I-66
For those who are living within the I-66 corridor there are numerous safe, paved trails for you to enjoy that are separated from vehicles. Some of these trails include: W&OD Trail, Custis Trail (part of the Arlington loop), and numerous paved trails.
All of these trails and paths are considered easy paths according to Bike Arlington's Comfort Map meaning that they are paved, separated from vehicular traffic, and little to no intense inclines.
Bike to Work Day Pit Stops
Bike to Work Day will take place on Friday, May 21.
Whether you are working from home or commuting to the office, Bike to Work Day is a great opportunity to explore your area through a new mode and enjoy the warmer weather while also exercising. There are several pit stops along I-66 this year.
Register today to and bike to a pit stop near you on Friday, May 21 to receive your free BTWD t-shirt and the chance to snag some other fun giveaways.
Below are the list of pit stops along I-66:
Mosaic Strawberry in Fairfax, VA
Vienna Town Green
Oakton at Oak Marr RECenter
Fairfax City Downtown
Tyson Corner Center
McLean MITRE Corporation
Arlington – Lee Highway near the Lyon Village Shopping Center
To find you pitstop, explore the DC Metro's Bike to Work Day website, here.
Photo Credit: Sam Kittner/Kittner.com for Arlington Transportation Partners