A show of hands if you've heard of our Champions program before? Great – we knew you were already on board. But, in case you need a refresher, Champions are residential properties, businesses, and real estate developers in Arlington County who have positively impacted and improved commuting and transportation options making Arlington a desirable place to live, work, and play.
This month we'd like to recognize Gold Level Champion Penrose Square (BM Smith), located on Columbia Pike, as our Champion of the Month. Recently, Penrose Square set an amazing goal to become Arlington County's first Platinum Champion residential property.
With the help of Alli Henry, ATP's Residential Business Development Manager, Penrose Square has their sights set on great success. Their current community features include:
Bike storage rooms
On-site rental bikes
Metro shuttle
Zip Car parking
Easy access to Arlington Parks, W&OD Trail and Four Mile Run Trails
Nearby Capital Bikeshare stations
Frequent and reliable Metrobus and ART service
Future streetcar service
Penrose Square offers a glimpse at what the future holds for residents and businesses of Columbia Pike. Walkable, bike-friendly urban spaces are what tenants want and Penrose Square is the first on the block to meet this demand. Alli Henry states, "Penrose Square has activated Columbia Pike's "Main Street" vision and paved the way for future transit-oriented development along the Pike."
Penrose Square isn't just a building, it's a community that likes to keep it fun, fresh, and timely. Just yesterday, they participated in the popular #ALSicebucketchallenge.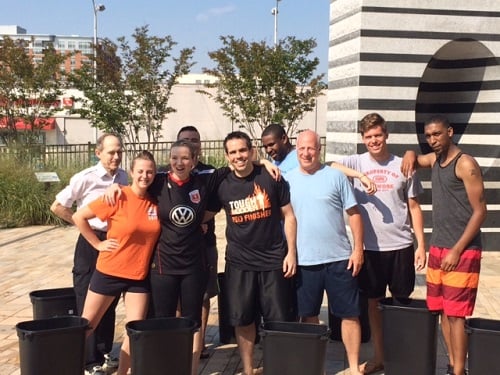 All of ATP congratulates Penrose Square for being our Champion of the Month!