Arlington Transportation Partners (ATP) is excited to recognize Ramboll Environ as September's Champion of the Month.
Ramboll Environ has been a part of Champions since its pilot in 2013, and continues to deliver robust commuter benefits and promotes alternative transportation each year. Ramboll Environ started the Champions year at Bronze Level with the goal of reaching Gold Level recognition. ATP and Ramboll Environ worked together to successfully reach Gold Level by offering equal benefits for parking and transit, adopting an ART bus stop, and continuing to participate in ATP-sponsored events such as National Walking Day and Bike to Work Day.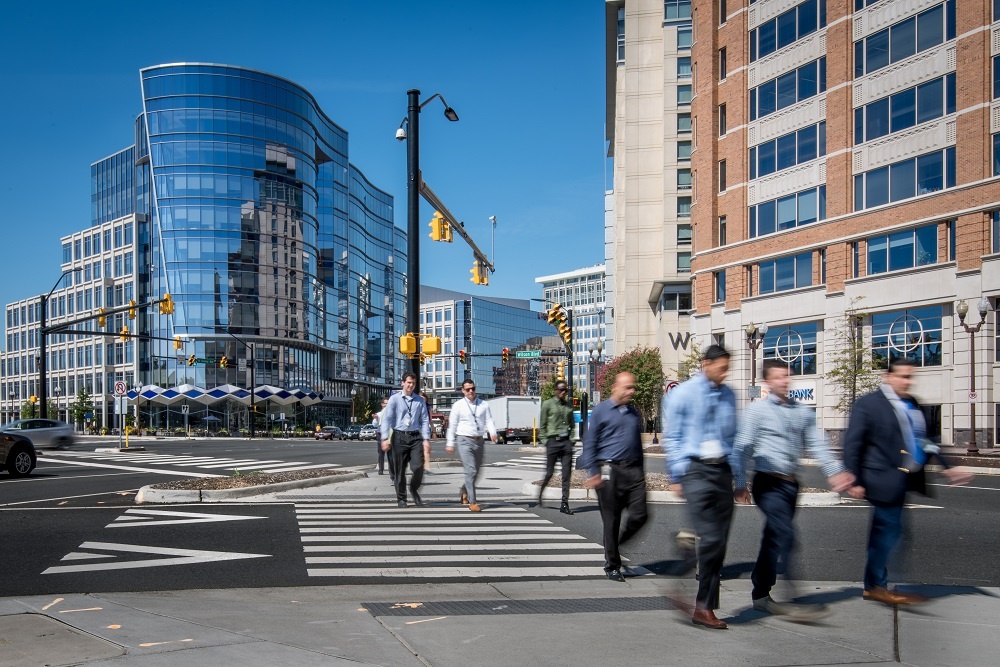 How They Engage Employees
Ramboll Environ is located a few blocks from the Ballston Metro Station, a major transit hub with access to several buses and Capital Bikeshare stations, making transit an easy choice for employees. Ramboll Environ values employee health and wellness, and hosts monthly corporate-sponsored webinars for employees to learn wellness strategies and encourages physical activity. They even have an informal group of Fitbit wearers that participate in a Daily Step Challenge and participate in ATP's annual National Walking Day.
Improving Their Benefits
Ramboll Environ wanted to enhance their existing commuter benefits from a pre-tax only benefit to a combination of a direct and pre-tax benefit program. They also implemented equal benefits for parking and transit. ATP shared the Commuter Benefits Guide with Ramboll, as another resource to understand and compare the different benefits an employer can offer while saving money. ATP and Ramboll Environ staff worked together to achieve their goals of leveling up. Congrats Ramboll Environ on reaching Gold Level status.
In Their Words—Ramboll's Success Story
Each year that we met with our ATP representative to kick off our participation in the Champions program, we discussed offering equal benefits for parking and transit as a potential goal, but it seemed like a long-shot. Ramboll Environ's Ballston office has historically provided a parking stipend (half of the actual cost) and no transit benefit, other than the pre-tax benefit. We are excited to report that we achieved equal benefits for parking and transit in late 2015, when our office began offering a combination transit benefit.

Since almost half of our employees walk, run, bike, carpool, or take transit to work, many of our staff supported offering a transit benefit. It took some time to figure out the payroll logistics for this new transit subsidy, but with the help of guidance materials from ATP and research by our Human Resources and Management staff, we developed a way to cover SmartBenefits payroll deductions (up to $53.00) with the stipend. The remaining deduction (if over $53.00) can still be made pre-tax.

Shortly after the initial enrollment period, the number of staff enrolled in SmartBenefits doubled. Many employees were already taking transit but had never signed up for SmartBenefits. Two people switched modes, from driving to taking transit, and dropped their parking stipend to sign up for the combination transit benefit instead. This new transit benefit also factors into housing and commuting decisions of our new hires.
Ready to Implement Your Own Benefit?
We are very proud of Ramboll Environ for being our September Champion of the Month, and look forward to honoring them at our annual Champions banquet ceremony.
Would you like to be featured as our Champion of the Month? Join Champions to see how ATP can help enhance your current benefits. To see how you can implement commuter benefits for your company, download our guide below.
Photo Credit: Sam Kittner/Kittner.com