If you are considering signing up for ATP's Champions program, but are unsure how to start, here is another tip! Partnering with ATP to create a zip code density map is an easy Bronze Level activity that will offer huge insights into current travel patterns of your populations.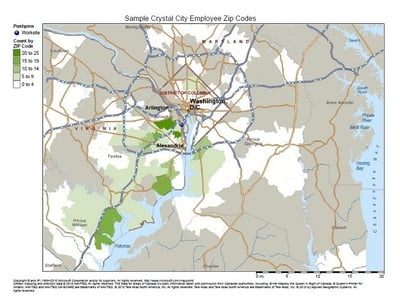 Density maps are based on a collection of zip codes, sorted and counted, then plotted on a map. Showing work/live relationships in this simple graphic helps everyone get a clearer image of where travel patterns originate. Although most HR personnel can look up this information, having a visual representation helps present it in a fun way.
Armed with this information, you can help people try different, healthier, and less stressful ways of getting around. Perhaps suggest carpooling to employees who live near each other, or offer Capital Bikeshare corporate memberships to residents who live within a four-mile radius of their office. Find out why employees who live near Metro stops are not utilizing their monthly transit benefit – maybe they simply did not know about it! And people traveling back and forth between other counties can explore VRE and MARC trains, or even commuter buses such as OmniRide.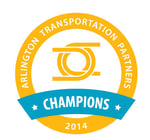 One Crystal City-based employer did a density map and found that the largest number of employees commute from Columbia Pike and Alexandria, while a significant percentage also travel from Woodbridge. Transit options from Columbia Pike to Crystal City are limited to bus service, so the ATP rep was able to provide specific bus routes, as well as bus options from Alexandria. From Woodbridge, there is not only the VRE, but also several commuter buses. Carpooling was also an option for these clusters of employees. The map's data also meant that the employer can be aware of traffic and transit incidents in those regions, and understand that employees might therefore have challenges getting to work.
Density maps are an easy activity because all you need to do is give your ATP representative a list of current zip codes, and ATP will do the rest, including offering you a map along with the analysis. Then when you host a wellness, benefits, or transportation event with ATP (a fun Silver Level activity!), your rep will be able to provide more customized transit information.
Contact your ATP rep now to get started on your complimentary density map, and see how it can help you!