Yes, most of us would probably rather be relaxing at the swimming pool instead of the office this summer. However, there are other "pools" that can help your employees or residents have an easier commute and better overall workday! Carpooling and vanpooling are great transportation options that can help commuters save money and reduce the time spent traveling to and from work.
If you're looking for another way to meet Champions criteria, promoting carpool and vanpool options is an easy way to help your organization or property be a Silver Champion or higher – and ATP can help!
Does your building provide preferential parking spots for poolers? Or offer free or reduced rate parking to those who rideshare? Get the details from your property manager or building parking company, and then pass on the info to employees! You can include that information in your company handbook or include it when sending out commuter benefits information to staff. ATP can also create customized flyers for both individual companies as well as on the building level to help communicate the benefits for carpoolers and vanpoolers.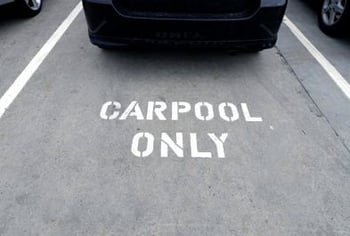 Property managers and businesses can facilitate ride matching among company employees or other tenants in your office building through lunchtime meetings, building lobby events, and resources such as Commuter Connections new mobile app with a ride matching function. Zip code density maps are also a great way to see where employees live and can assist in forming new carpools or vanpools.
Finally, promoting the Guaranteed Ride Home (GRH) program is a vital part of any rideshare initiative at an organization or property. Many commuters are hesitant to try pooling due to the lack of flexibility and dependence on someone else to get to and from work. However, by signing up for this free program, registered commuters who carpool, vanpool, ride transit, bike, or walk to work are eligible for up to four free rides home a year in the event of an emergency or unexpected overtime. To encourage staff to sign up, ATP can provide promotional materials to distribute to employees or attend a transportation fair at your building.
Make commuting easier this summer and encourage your staff or tenants to consider pooling for their trip to and from work! Remember, you can earn credit in the Champions program with ATP's help!