It's no secret that participants in Champions are doing great things when it comes to promoting transportation options to employees, tenants, and residents. Programs such as free bike tune-ups, transit benefit subsidies, and real time digital transportation displays all show a high level of commitment and investment from Champions, who also understand the benefit they have on their bottom line.
But how can our partners go further in incorporating transportation into sustainability, wellness, and financial goals?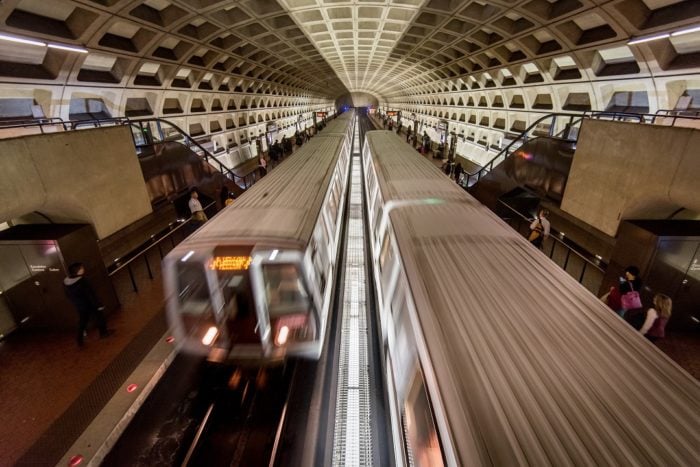 Tracking Impact
One great way is to track the impact of these transportation programs and how effective these types of initiatives are at encouraging commuters to switch from driving alone to other modes of transportation such as transit, biking, or carpooling—or as we call it, mode shift.
Research has shown that driving alone to work can have significant negative impacts on the driver and the environment—namely an increase in emissions, poor air quality, increased stress, lack of exercise, and much higher transportation costs such as gas, tolls, parking, and maintenance.
This year, Arlington Transportation Partners (ATP) has put more focus on mode shift through Champions, as we aim to gain a better understanding of how these initiatives affect commute options and the local transportation system.
What is Mode Shift?
Data shows that around 55% of workers in Arlington drive alone to work while the remaining 45% use some other commute options such as transit, carpooling, or walking. With many major highways and arterial roadways already at peak capacity during rush hours, and little space to expand or add roads inside the beltway, there isn't any more room for additional cars without causing significant traffic delays.
Strategies & Goals
That is why the primary goal of Arlington Transportation Partners, Arlington County Commuter Services, and Arlington's Department of Transportation is mode shift—shifting single occupancy drivers to other transportation alternatives, including Metrorail, buses, biking, carpooling, and vanpooling.
Through transportation demand management (TDM) strategies, workers, residents, and visitors can take advantage of a more balanced and efficient transportation system, ultimately saving time and money.
Planned new development in Arlington, including over a million square feet of office space and several thousand new residential units, will draw many new employees and residents to the County, making mode shift a critical component of keeping Arlington moving. Traffic congestion costs commuters and businesses over 80 hours per year in lost time and millions of dollars in lost productivity.
Without TDM initiatives and programs to encourage commuters to shift to other modes of transportation, these costs will only increase, impacting the economic competitiveness of the Arlington/DC Metropolitan region.
Program Implementation
ATP assists companies and properties with implementing programs that can shift commute trips from driving alone. These are often customized and recommended based on an individual client's profile—such as current benefits or amenities offered, population demographics, as well as work and home locations.
Some initiatives that have a notable impact on mode shift include a transit benefit subsidy, parking fee or parking cash out, carpool/vanpool matching, and bike-friendly amenities and programs such as secure bike parking, showers, and events.
Evaluate Programs
ATP can also help businesses determine the impact of these programs by creating surveys that ask employees, tenants, or residents about commute patterns and live/work relationships. This data can determine the current mode split as well as potential programs that could encourage a shift in transportation modes.
By reducing the number of single occupancy drivers at your company or building, your business can see improvements in the bottom line while setting an example for sustainability standards, health/wellness goals, and overall satisfaction among your staff.
Think about how your employees and tenants travel to and from work and incorporate mode shift into your overall sustainability programs.
Photo Credit: Sam Kittner/Kittner.com for Arlington Transportation Partners