Transit-oriented development (TOD) has become the standard in the DC region, with higher land values near Metro stations and real estate developers placing a rent premium on properties located in accessible, highly-amenitized locations. In Arlington specifically, the County has been a national leader in TOD, with higher density development focused in the Metro corridors since the 1970s.
Arlington Transportation Partners (ATP) works with commercial, residential and mixed-use properties to complement and enhance their transit-oriented locations and reduce the impact on our transportation system from building occupants.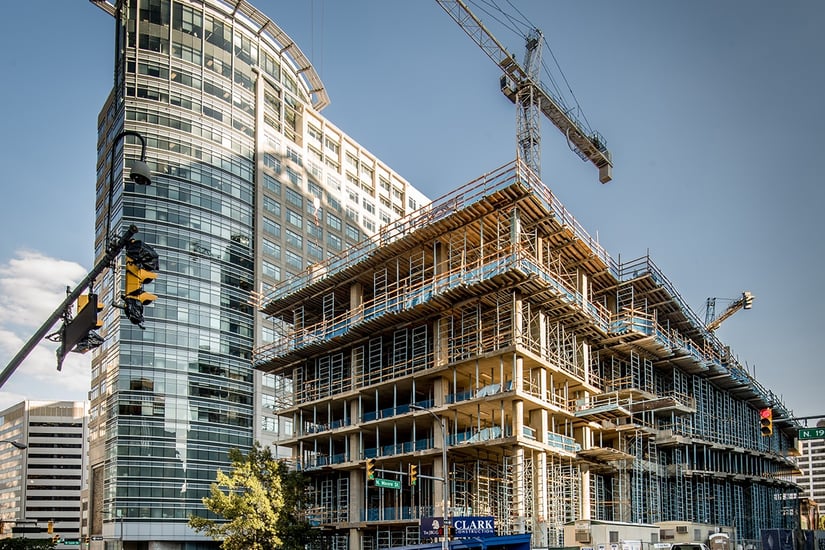 The Impact of Development in Arlington
In Arlington, Virginia, higher density multi-family residential buildings make up 65% of total housing units in the County, and nearly 19,000 housing units have been added in the Metro corridors since 2000. In 2016, over 1,800 housing units were built, with plans for another 3,100 units approved by the County Board. Development of commercial office buildings has been less intensive in recent years, however nearly 3 million square feet of office space is either under construction or planned, and will add to the 41 million square feet of existing office space in the county.
With so many high density residential units and more office space than downtown Atlanta, Arlington has made it a priority to provide quality transportation options to commuters, residents and visitors and provide resources to alleviate traffic congestion in the region. ATP works with the business and real estate community to provide highly customized service and expertise based on an employer or property's unique transportation challenges.
The Role of Property & Development Services
ATP's Property & Development Services program consists of three divisions, Multi-Family Residential, Commercial and Visitor Services and TDM for Site Plans.
The Multi-Family Residential outreach division works with managers and owners of apartment and condominium buildings in the County to implement programs that encourage residents to use non-driving modes of transportation. These programs can include secure bike storage rooms, Capital Bikeshare memberships and free SmarTrip cards for new residents. Through these types of initiatives as well as the Champions recognition program, properties are able to increase their visibility in the community and attract new residents.
While ATP's Employer Services team works with individual office tenants, the Commercial and Visitor Services division works with managers to improve building-level programs that can impact multiple tenants, employees and guests. Programs such as showers and lockers, preferred carpool/vanpool parking, secure bike rooms and relocation assistance can be great ways for property managers to improve the way occupants travel to and from their building.
The third division of Property & Development Services is TDM for Site Plans, which works with new construction and existing buildings in the County to monitor the implementation of transportation site plan requirements that have been approved by the County Board. The Site Plans division coordinates with Arlington County's planning and zoning staff to review compliance and support the successful implementation of site plan conditions at properties during construction, delivery and ongoing operations.
These three programs contribute to achieving Arlington's overall goals of reducing traffic congestion, improving air quality, increasing economic competitiveness and quality of life. Through the initiatives described above as well as ATP's Champions, properties can also reap benefits such as increased property value, increased competitiveness, lower vacancy rates and achieve sustainability goals.
Improve Transportation Programs at Your Property
ATP's Property & Development Services program aims to make your property as successful as possible through innovative and customized transportation programs. For local residents or office tenants interested in improving the transportation amenities at your building, let us know so we can connect with the management company on finding the best solutions for your property.
Photo Credit: Sam Kittner/Kittner.com for Arlington Transportation Partners