It's no secret that we love Capital Bikeshare around here. We've routinely shared information about the system, and some of the great tools and apps that have been developed, some by our friends at Mobility Lab, to help the system grow and flourish. This week saw the release of another new application, using Capital Bikeshare's rich stream of user data. The new app is called Bikeshare IQ, and was developed by Zach Rausnitz.
Similar in concept to the Spotcycle app, which provides real time information about the status of each Capital Bikeshare station, Bikeshare IQ expands on that idea by showing the trending history for each station. This lets you see in real-time, how the status of each station has evolved over the last half hour. For users who live near popular stations, this can be very useful, particularly on the front end of a morning commute.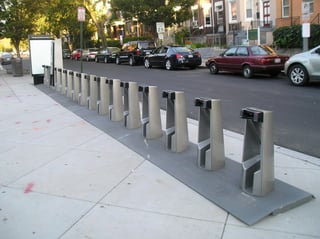 How many times have you encountered this?
For example, the station near my apartment in Dupont Circle regularly empties out on weekday mornings, often long before I'm needing a bike. Using Bikeshare IQ, I can track the station's progress, and attempt to pinpoint exactly when, on average, this station empties out each day. Then, I can adjust my schedule accordingly.
Bikeshare IQ could be useful for encountering full stations along your journey. How many times have you rode to your destination, only to find the station full? With Bikeshare IQ, you can review historical data, and make a more educated guess - a highly fluctuating station status might mean that you only have to wait a minute or two for a dock to open up. A stagnant station might suggest the need to ride on to a nearby station.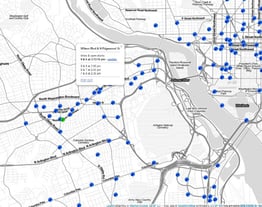 Tools like this are great resources, particularly for new Capital Bikeshare users. The access to real-time data and maps makes the system extremely easy to use - particularly during a Polar Vortex.
If you're not already a member of Capital Bikeshare, now is a good time to try. Capital Bikeshare is currently offering a $20 discount on annual memberships (normally $75.00) for residents of Arlington County, until the end of February. The offer is limited to the first 1,000 new members to sign up (must be a new membership, not a renewal). Visit here to sign up for the discount. This promotion has ended.