Do you have an opinion about your current commute to work? Are there any issues, concerns, or comments you would want to share? Well this month, there are several opportunities for Arlington employees and residents to share their thoughts on changes to local transit service as well as plans for future transportation projects in the county. If these proposals could potentially affect you and your commute, check out these dates and let your voice be heard!
If you ride Metrobus along Pershing Drive or Arlington Boulevard, there will be three public meetings this month to discuss the Evaluation Study on the 4A, B, E, and H bus lines. These "open house" meetings will look at findings from the ongoing study, as well as customer concerns and potential improvements to the local bus service. The first meeting will be held tonight from 5:30 to 7:30pm at Arlington Assembly of God Church at 4501 N. Pershing Drive.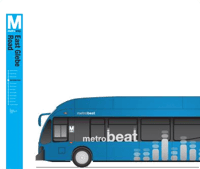 Metro has recently released an online customer survey to help decide the look and design of the future bus rapid transit line between Braddock Road in Alexandria and Crystal City. This five-mile route will have a dedicated bus lane separated from regular traffic, and will allow customers to pay before boarding at "payment stations" along the route. This BRT line will provide more frequent service to riders along the Crystal City-Potomac Yard Corridor and faster trips for customers traveling to various destinations. The survey allows you to rate suggested names for the route as well as various designs and color schemes for the buses and station signs. Some of the looks are pretty cool and are very different from what a typical Metrobus looks like!
Finally, if you ride VRE, there will be several public hearings this month to discuss a proposed 4% fare increase, which would go into effect July this year. This increase, which will affect both the Fredericksburg and Manassas lines, will have an impact whether you are a daily or occasional rider on VRE. Share your comments at one of these meetings, including the hearing taking place in Crystal City on March 19 at noon. For a full list of dates and locations, as well as details on other ways to send in comments, check out VRE's website here.
For any additional questions about the above proposals and public meetings, feel free to contact ATP.