You'd be surprised at how much better people feel when they are not sitting in traffic every single morning. Using active transportation options can get you to work feeling energized and ready to start your day. Everything from listening to music on the train to adding in a brisk walk before sitting down at your desk can make a huge difference.
There are a multitude of ways to avoid the induced stress that many people feel is intrinsic to commuting. People focus so much on their 'number' – the amount of time in minutes or hours they spend getting to work. But, it doesn't have to be that way.
It's not about the time it takes to commute.
It's about how you choose to spend your time.
Here are three examples of how a new commute could brighten up your day by changing how you spend your time.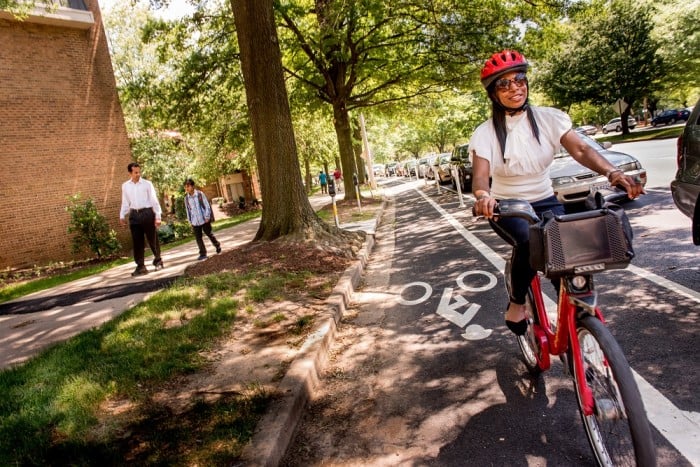 Catch up on your reading
We often feel that our fast-moving lives give us little time to sit back, relax and open a book. People often get home to a lot of extra tasks beyond the ones they face at work. Kids, cleaning, cooking dinner, the list goes on. But that doesn't mean you can't sneak in some reading time! Next time you are on the Metro or a bus, look around and you will see plenty of people with their nose in a book (mobile or good old-fashioned hardback) or newspaper. Would you rather spend one hour in traffic constantly focused on the road or instead sit back and be sucked into your new favorite novel? I think we all know the answer.
Ride a bike to skip the gym
Ah, exercise. One of those extra activities we always plan for, but always seems to fall by the wayside. Why not change up your commute so you don't have to worry about stepping into the gym as often? Biking gets your muscles working and has even been shown to make you less stressed and more prepared for your day. Now you are knocking out two activities at the same time, exercise and your commute. It is really hard to beat that combination.
Interacting with great people
Many of us here at ATP have stories of people we've met via our commutes. Before I started biking regularly, I knew my bus driver really well and we used to chat every morning. Others find friends due to similar commutes to the point where they hang out every afternoon on their train ride home. But, it's not just the drivers and fellow travelers, but sometimes someone you may least expect who brightens up your day.
Since many of us at ATP take the Metro to Rosslyn from time to time, we all happen to know about a friendly Washington Post Express employee named Gordon who manages to say 'good morning' to every single commuter over the course of 3-4 hours. No one has told him to do this, he personally chooses to try and brighten up everyone's day!
I asked Gordon why he's so focused on saying hello to every person. He let me know that, "with all the gloom, people need some joy in their lives." You'll quickly notice the people's expressionless faces turn to smiles as they are greeted while exiting Rosslyn Metro Station. We like to think of Gordon as our everyday transportation hero.
If you have suggestions of people (or heroes...big or small) who really make your trip to work extra enjoyable, drop us a line at solutions@transpartners.com. We are looking to start a series of everyday transportation heroes, just like Gordon, here in Arlington County!
Photo Credit: Sam Kittner/Kittner.com for Arlington Transportation Partners