Did you know that May is National Bike Month? Sponsored by the League of American Bicyclists, this month long celebration is a great opportunity to get out and ride on two wheels and encourage your friends and coworkers to do so as well! For Arlington employers, promoting bike commuting among employees can be part of a larger health and wellness at your organization, which can have overall benefits such as higher productivity and employee satisfaction. In addition, being located in Arlington makes it easier to promote and support biking among employees due to the many miles of bike lanes, routes, and paths installed throughout the county. Over the next few weeks, take advantage of National Bike Month and make your organization a bike-friendly workplace for employees. Check out some of the events and programs below that are perfect ways to get started!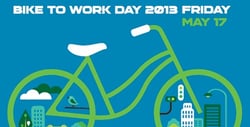 This year, Bike to Work Day is on Friday, May 17th and is the culmination of "Bike to Work Week", a weeklong celebration of bicycling and healthier commuting. With over 70 pit stops in DC, Maryland, and Virginia, there are plenty of opportunities for your employees to participate in this year's event. Encourage your staff to register for Bike to Work Day and swing by one of the Arlington pit stops in Ballston, Crystal City, and Rosslyn! There will be t-shirts, snacks, fun games, and raffle prizes for participants – it's a great way to start a Friday morning! You can also support newer riders to bike by helping form groups of riders within the office, or encouraging them to join a BTWD convoy. Each year, Bike to Work Day gets bigger and bigger – we hope that your company's employ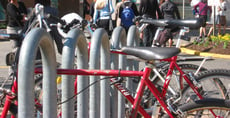 ees sign up and ride!
If your company is already promoting bicycling among employees through various programs and initiatives, then your organization may be a Bicycle Friendly Business! The next round of applications is due June 30th, so National Bike Month is a great time to get started! With four different award levels, your organization can be recognized for a wide range of bike-friendly efforts, from bike safety programs to providing showers and lockers for bike commuters. Take a quick quiz here to see if your business should apply! Check out the list of Bike Friendly Businesses in Arlington here.
Capital Bikesh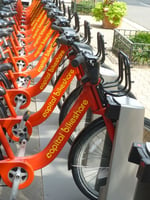 are continues to expand in Arlington and DC, with more stations being installed almost weekly in locations that are convenient for both daily and occasional riders. Station expansion plus great spring weather make it the perfect time for your organization to become a Capital Bikeshare Corporate Member! By offering CaBi memberships to employees, you can promote a healthier and more convenient way to get around during the workday. Your organization can choose from four different flexible discounted membership rates, plus receive a free Capital Bikeshare helmet for each membership purchased! Contact an ATP representative today to learn more about the corporate membership options.
Feel free to contact ATP about any of the above programs, or to learn more about bike-friendly programs and benefits at the workplace. For more information and tips on bicycling in Arlington, visit BikeArlington's website. We hope to see more cyclists out on the roads and trails this month!