This weekend marks the beginning of the National Cherry Blossom Festival, one of the busiest times of year for tourism throughout the DC region. With over a million people expected to visit the area in the next 3-4 weeks, providing information on the various transportation options is crucial to moving visitors, commuters, and residents efficiently throughout DC and Arlington.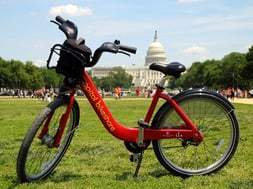 Hotels often have the difficult yet important role of guiding new visitors around the area which is why ATP offers several different services that can make a hotel concierge's job easier! Check out the programs below that your Arlington hotel can take advantage of this season and help make your guests' stay a memorable one.
Capital Bikeshare Memberships: Casual (or short-term memberships) with Capital Bikeshare have grown increasingly popular as more tourists are seeing the red bikes as a fun and convenient way to get around DC and Arlington. Through Capital Bikeshare's Bulk Membership program, hotels can provide daily or three-day memberships to their guests as an extra perk during the Cherry Blossom season and beyond. ATP can assist your hotel with purchasing and managing these memberships – contact us to get started!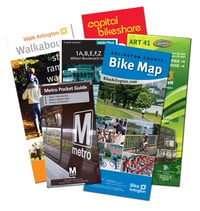 Free Brochure Services: Most hotels already provide basic maps and wayfinding materials to guests, however, through ATP's free brochure service, we can provide your hotel with even more helpful information. Bike maps that show all the local bike trails and bike routes are helpful for visitors looking to stay active during their trip; brochures for specific public transit routes, such as the Circulator and local bus lines can provide information on alternative options to Metro. Sign up or place a new order today – brochures will be delivered free to your hotel within a week!
Customized Transportation Materials: As a complement to the free brochures, ATP can create customized pieces that show all the nearby transportation options and resources within ¼ a mile of your hotel. This includes bike routes, bus lines, Metro stops, Capital Bikeshare stations, and even Zipcar carshare locations. With your hotel's name listed at the top, your customized "Quick Glance" can be printed and distributed to guests, posted in your lobby, or even emailed as a PDF.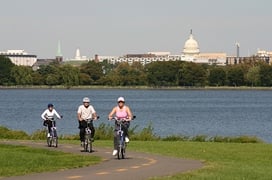 There are many other transportation resources you can direct your guests towards or use to educate your concierge staff – our friends at goDCgo are a great resource for DC-specific transportation options and are very helpful for large groups traveling to the area. You can also check out CommuterPage.com for more info about traveling throughout Arlington, as well as BikeArlington for tips and advice on biking in the County. Contact ATP to learn more about the programs above and get started on making your hotel stand out during this busy tourist season!