As an employer, keeping employees satisfied and maintaining a positive work environment is a challenging but important responsibility that can result in improved productivity, higher employee retention rates, and ultimately improve your organization's bottom line. While these factors can be influenced by offering a variety of programs at the office, an employee's workday often starts with their commute, which can have a positive or negative impact on the rest of the workday. Many employers in Arlington have realized this and are taking a proactive approach to making their employees' commutes easier through initiatives, benefits, and incentives.
This summer, your organization can now receive recognition for efforts to improve commuting among employees. Through ATP's new Workplace Commute Champions program, employers in Arlington County can be eligible to earn prizes and awa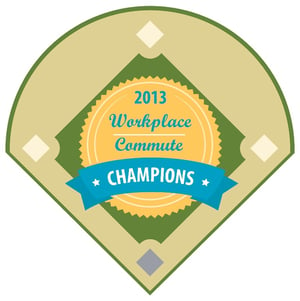 rds as well as be recognized on a local and national level for implementing transportation and commuter programs. This includes programs such as transit benefits, telework, bicycle commuter facilities, promoting carpooling, and many others that encourage alternative modes of commuting and make it easier for employees to get to work!
So how does your organization get started? First, make sure to register by May 31st to be eligible for the program! An ATP representative will then meet with you to discuss any current commuter programs your company offers, as well as other initiatives that could meet the needs of your employees. Throughout the summer, ATP will continually work with your organization to implement and maintain commuter benefit programs that can help you earn recognition as a Workplace Commute Champion!
Your employees can be happier and more productive during the day by helping them have an easier commute to work! Remember to register by May 31st and feel free to contact ATP for more details or information about the Workplace Commute Champions program.