Love the Bus Week returns on February 12, with more fun ways to get engaged and celebrate busing and carpooling. Share the resources and ride the bus or carpool during the week. It's an easy way to earn Champions credit, too.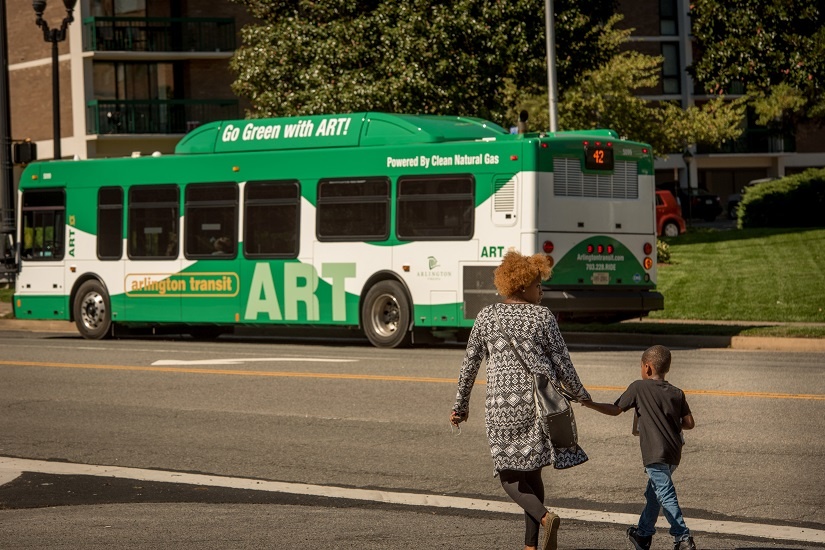 Get On Board
Love the Bus Week, the nation-wide event hosted by the American School Bus Council, returns February 12-16, 2018. We're excited to help Arlington Public Schools (APS) staff and students celebrate and get on the bus. APS staff are encouraged to register their commutes with ATP in order to earn recognition and rewards.
Pick Ways to Celebrate
There are several ways to celebrate Love the Bus Week:
Transit options
Encourage employees to ride the bus or carpool. Ridesharing is also a good option to test out during the week.
Promote the student iRide SmarTrip card. The iRide card gives students $1 rides on ART buses 24/7 (full-price fares apply on Metrobus and Metrorail).
Share the love
Create ways your school can thank the school bus drivers.
Share your love for the bus on Twitter using the hashtag #APSBusLove and tag the APS Transportation Department, @APSSchoolBus, as well as us, @ATPCommutes.
Don't Forget Crossing Guards
Crossing Guard Appreciation Week is the same week as Love the Bus Week. This Safe Routes to School initiative is a way to appreciate those who help students safely cross the streets to get to school. We all benefit from their care and attention, so be sure to thank them as well. Hint: they might want something warm this time of year.
Earn Champions Credit
Encouraging staff participation in Love the Bus Week and recognizing them for choosing sustainable transportation options, is a Silver Level Champions activity, putting Champions schools closer to their goals and higher levels. Moreover, it helps support the long-term goals of APS Go! of reducing vehicle traffic around schools. Don't miss out on Champions recognition—sign up now for rewards for the rest of the school year.
Photo Credit: Sam Kittner/Kittner.com for Arlington Transportation Partners