Arlington County employers and property managers may already be familiar with the benefits of a density map and commute survey; but in case you're not, the feedback from participants shows what does and doesn't work for your employees and residents.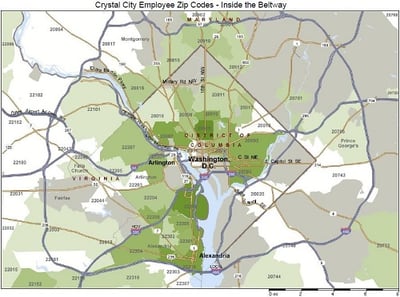 Knowing how people reach their destination translates to easier, healthier and less expensive travel; plus a less stressful commute. This knowledge can be easily obtained through a free complimentary density map and commute survey, created by Arlington Transportation Partners (ATP).
Density maps are based on a collection of zip codes, sorted and counted, then plotted on a map. Showing work/home relationships in this simple graphic helps everyone get a clearer image of where travel patterns originate. Although most HR personnel can look up this information, having a visual representation helps present it in a fun way. And sometimes a density map can surprise you – this recent map combined the zip codes from several Crystal City companies and showed that the majority of the employees were commuting from within the Beltway!
Obviously this is not indicative of all employees in Crystal City, but it goes to show that an easy density map can hold surprises. Armed with this information, it is easier to promote specific transit options. Check out the table below for how residents living in 3 different areas can commute to Crystal City without driving:

As a follow up to the density map, an employee commute survey is a great complement and delves deeper into how an employee commutes to work, how satisfied they are and what commute alternatives they would consider.
Both tools can give your company or property an edge when deciding what benefits and programs are best for your audience and the organization bottom line. ATP will create density maps and commute surveys free of charge for Arlington locations, as well as provide analysis and recommendations based on the data.
Lastly, if your company or property is a Champion – a density map can help you meet Bronze Level criteria, while an employee or resident commute survey will help you complete Silver Level requirements!
We're currently wrapping up 2014 Champions, but there is still time to join. Interested? Email solutions@transpartners.com.