Where do your employees live? Most businesses and HR professionals probably already have a good idea where most of their staff resides and could easily find that information in their records. However, what if you had a visual that showed you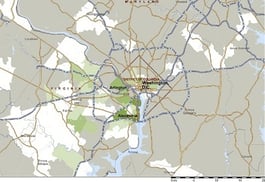 all of the staff's home zip codes? Chances are, you might be surprised by what you see!
You might already know that four miles or less is a great distance to bike to work, but do you know how many employees actually live within four miles of the office? Density zip code maps, like the examples seen here, can provide employers with greater insight about their employees' commutes. This visual can also be also be a great tool to reference when evaluating current and new benefit programs or ways to improve employee satisfaction.
Perhaps the majority of your employees live near Metro or public transit but only a few are taking advantage of your company's transit benefit. Maybe a large number of employees live in Prince William and Stafford Counties, but are they aware of the VRE train system or PRTC Commuter buses that servi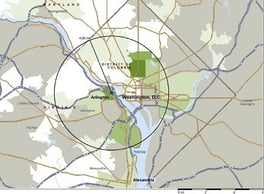 ce those areas? You might even see on the map that a small group of employees happen to live close to each other, despite all of them commuting separately from 30 miles away – a great opportunity to start a carpool!
As a follow up to the density map, an employee commute survey is a great complement and delves deeper into how an employee commutes to work, how satisfied they are, and what commute alternatives they would consider. Both tools can give your company an edge when deciding what benefits and programs are best for your employees and the organization bottom line. ATP will create density maps and commute surveys free of charge for Arlington businesses, as well as provide analysis and recommendations based on the data. Contact us today to learn more and get started!