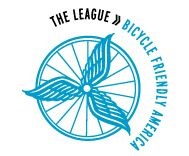 Six Arlington businesses, properties, and organizations were announced today as new Bicycle Friendly Businesses (BFB) by the League of American Bicyclists! They join 19 other companies in the county that have been nationally recognized for their efforts to encourage a more bike-friendly environment at the workplace. These organizations have undertaken initiatives such as bike education classes for employees, installed showers and bike racks, and provided benefits and incentives to encourage biking.
Congratulations to Arlington's newest Bicycle-Friendly Businesses!
2500 Wilson Blvd (Lincoln Property Co) - Bronze
1530 Wilson (Lincoln Property Co) – Bronze
OPower – Bronze
PBS – Bronze
US Fish and Wildlife – Bronze
Laura Holman's Home Daycare – Silver
Does your company have what it takes to be recognized as a BFB? Take this quick assessment to see if your organization is ready to apply! ATP can help companies implement and provide bicycle friendly amenities, benefits, and employee programs. We'll also provide assistance throughout the application process to ensure that your company gets the highest award it deserves. Get started today – the next round of applications are due January 16th, 2014!