The most recent round of Bicycle Friendly Business Awards were just announced, and ATP is excited to celebrate eight Arlington businesses and properties that are being nationally recognized for their efforts in promoting bicycling to employees. This brings the total number of Bicycle Friendly Businesses in Arlington to 36.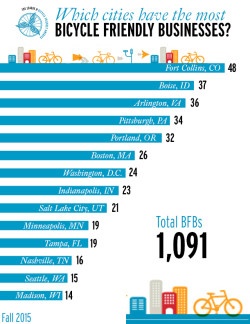 Gold
Silver
800 North Glebe (The JBG Companies)
Air Conditioning, Heating and Refrigeration Institute
ERG
FI Consulting
The Cadmus Group
Two Liberty Center (Kodiak Realty Services)
Waterview (Paramount Group)*
*Renewal applicant, was designated as a Bronze Level BFB in 2010
To be considered for the award, businesses had to fill out an application and answer questions relating to four areas of bicycle friendliness: Encouragement, Education, Engineering, Evaluation and Planning. These include programs such as bike to work events, bike maintenance workshops, secure bike parking, shower facilities and administering surveys on how people commute to work. Applicants also had to submit photos and describe future plans for improving bicycle friendliness.
These most recent award winners account for nearly 8,000 employees in the Rosslyn, Courthouse and Ballston neighborhoods. They have implemented a variety of bicycle friendly programs, ranging from bike tune up events and bike to work day breakfasts to secure access bike rooms and lockers designated for bike commuters.
Congratulations again to Arlington's newest Bicycle Friendly Businesses, they join over 1,000 other companies throughout the country who are being recognized for their encouraging and promoting bicycling at the workplace.
If your company or property is interested in becoming a Bicycle Friendly Business, contact ATP! We can walk you through the application process and provide support with implementing new bike friendly programs. You can also earn Champions credit for applying for the BFB designation.
If you have additional questions, feel free to check out our FAQ!
The next deadline for applications has been extended to January 12, 2016, with additional rounds in March and June of 2016.