Here at ATP, we are all about making people aware of the various transportation options available in the area and encouraging residents and workers to try different modes of commuting besides driving alone. Here in the Arlington area, we're lucky to have so many different choices when it comes to commuting and getting around such as Metro, bus, biking, walking, and carpooling. However, there are a few commuters in the area and elsewhere that have chosen some rather unique forms of transportation to get to work. Some of these we would only recommend for the highly skilled, but if your commute lets you skip sitting in traffic, saves you some money, and helps you get exercise during the day, then you have our full support!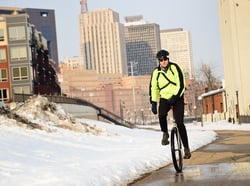 While I typically associate unicycles with the circus or people juggling objects, it's apparently growing in popularity as a viable commuting mode. Check out this photo that BikeArlington recently tweeted of a unicyclist on a nearby trail! Or here's the guy in Minneapolis who unicycles (uni-commutes?) no fewer than 18 miles a day to and from work, and owns four different unicycles. Speaking of bicycle-like modes of transportation, has anyone ever tried an elliptical bicycle or "elliptigo"? They are apparently pretty pricey and quite the workout, but I've seen one Arlington commuter who has opted to ride his elliptigo down Columbia Pike to work – has anyone else seen this guy?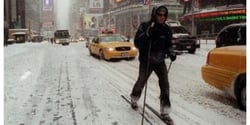 Some other interesting commuting options that have been noted are kayaks, as seen in DC and the two guys who paddle across the Hudson River, skiing, and how about the designs for "commuter swim lanes" in London? People certainly get creative in trying to figure out how to beat traffic! What would be your ideal way to get work?
Unicycle Photo Source: Pioneer Press