Arlington Transportation Partners (ATP) is excited to highlight Shirlington Tower as a transportation leader in Arlington County and November's Champion of the Month. Shirlington Tower continues to deliver when it comes to outreach, commuter benefits and promoting sustainable transportation which is no surprise why they are a top commercial Champion.
Located at 2900 South Quincy Street and managed by Moore & Associates, the 233,500 SF office building is located in the amenity-rich village of Shirlington directly across the street from the Shirlington Bus Station and Commuter Store.
When Moore & Associates first purchased the property in November 2015, the property faced a substantial vacancy rate (50%) due to the departure of a single tenant. Instead of shying away from acquisition, Moore & Associates saw a unique opportunity to acquire a core-quality asset with a value-add through leasing and amenitization.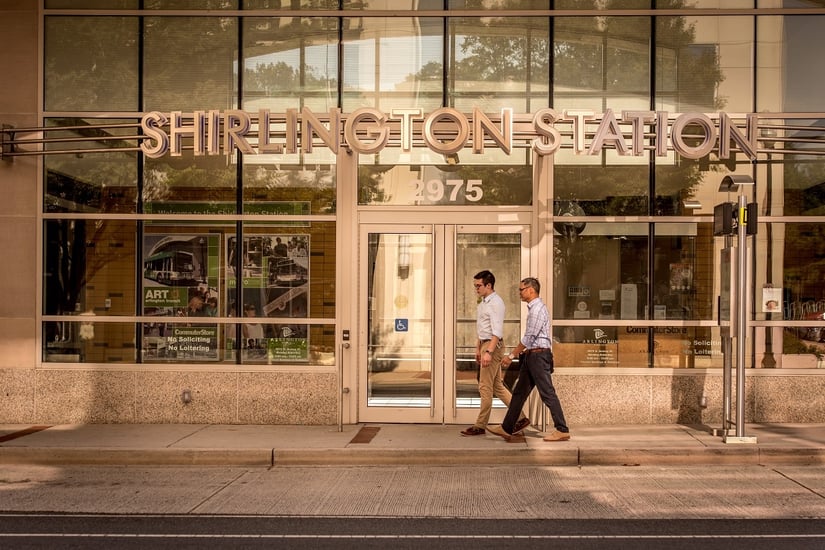 Distance & Vacancy Rates
Since joining Champions, Shirlington Tower was able to identify that their distance from the Metro (3-miles) was directly affecting their vacancy rates. Leadership at the property took amenitization to all new heights earlier this year when they partnered with the ridesharing company Lyft. Through geo-fencing technology, Lyft was able to create a virtual geographic boundary around both Shirlington Tower and Pentagon Metro. This allowed their building tenants with the unique code to request rides to and from the office and metro with no restrictions on time or day of the week.
Working alongside ATP, management has been proactive in distributing updated transportation information that is specific to the Shirlington area and providing materials to tenants with new employees. In addition, the property recently hosted a transportation event in their lobby with ATP, Lyft and Healthy Buildings where tenants were encouraged to take a transportation survey for the buildings LEED Dynamic Plaque certification. The effort leadership has put forth is truly remarkable and that it was through this unique offering with Lyft that helped Shirlington Tower achieve Gold Level in Champions. As a result of their effort, this allowed them to meet the various needs of their tenants and ATP thanks you for your support in helping us improve mobility in Arlington County. Congratulations again to Moore & Associates' Shirlington Tower!
Implementing Innovation
If your property is interested in innovative transportation solutions to office or company dilemmas, then it's time to connect with Arlington Transportation Partners. As subject matter experts in transportation demand management, ATP has the knowledge and resources to help provide customized solutions for your property.
Champions is a great way to be a part of the innovation conversation in Arlington County.
Photo Credit: Sam Kittner/Kittner.com for Arlington Transportation Partners