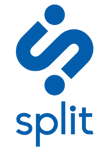 Editor's Note: As of October 3, 2016, Split has discontinued service in DC. Check out their website for more information.
Read on below for an overview of what their service was like in DC.
The Washington DC region is quickly becoming a place for companies already operating in some of the largest cities to expand their reach. Recently, Boston-based Bridj launched limited service between Capitol Hill and Dupont Circle to help fill a niche not being targeted by buses. Another company, Split, has come to the table to offer more optimized ridesharing options to help reduce costs.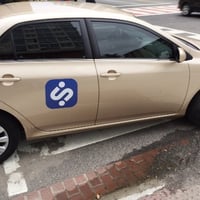 Split launched just a couple days ago in Washington DC and is similar to Uber and Lyft in that you order a car to your location to taxi you to a destination of your choice. However, Split will pick up additional passengers heading on similar routes to ride along with you. The "carpooling" system helps to mitigate the costs to passengers and also reduce the number of cars needed on the road. Unlike Uber and Lyft, the app will ask you to walk a short distance (only or block or so) to ensure the car picking you up can continue down its current route in the most efficient way possible. And, most importantly, there is no surge pricing. In fact, their website touts that all rides are always $2-$8.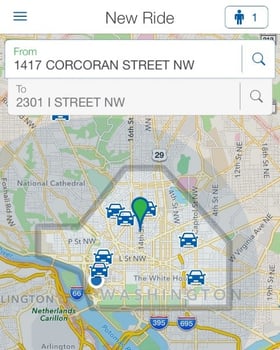 This morning, I altered my standard commute method of walking one mile to the Metro Station and opted to catch a Split. Split is currently only operating in a portion of DC (map here) that includes roughly Georgetown to the middle of H Street (East to West), and the U Street corridor down to the National Mall (North to South).
One feature of Split people may really enjoy: you know the cost of your ride before you ever make a request. You enter your starting and destination address and the cost quoted on the app is what you will pay, there are no changes based on mileage or time. A handy feature when worrying how quickly your fare will increase or whether or not your driver is taking the shortest route. My quote from 700 M Street NW to the Foggy Bottom Metro Station was only $3.82, with the possibility that other passengers may be picked up along the way. Just for the sake of comparison, a similar route estimate at the same time from Uber ran roughly $6-8 with no surge pricing.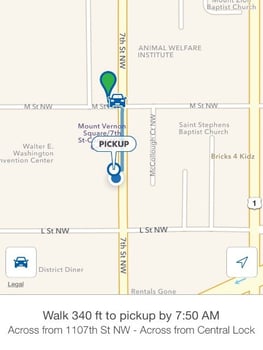 Since I commute to Rosslyn, I chose to catch a Split from my house over to the Foggy Bottom Metro Station and finish up my commute underground. I ordered a car and was instructed to walk about half a block for my pickup at 7:46, pictured to the left. At about 7:50 I could see my driver arriving up the street at where I had first requested the ride and he stopped to wait for me. I'm not sure if this was a misunderstanding on his part or the app telling him the wrong location. Eventually he coasted down the road a short distance and picked me up where I had been instructed to walk.
At this point, the trip felt very similar to a ride with Uber or Lyft. I hopped in and the driver began his drive down to the Foggy Bottom Metro Station. Since Split is still new we did not encounter any extra passengers along the route.
But, won't picking up other people really slow me down?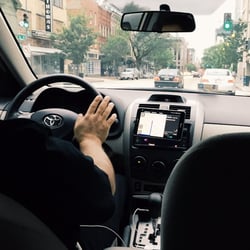 Once the app starts to generate more usage, someone ending up in your car will most likely become more prevalent. I know for many people this raises an important question: will I get to my destination in a timely manner? My driver explained that passengers only along your route that are headed in the same direction will appear with only very small detours to scoop them up, generally the app will ask the new passenger to walk a short distance to maximize efficiency.
This led me to ask another question. What if the person doesn't show up? "Not an issue." The driver told me that maintaining the speed and convenience of Split meant that drivers would only wait a very short time for new passengers (a maximum of only 30 seconds) before hitting the "no show" button and moving on. So, do not try brushing your teeth after you order your Split and make it to the stop a few minutes late, you will have likely been passed up.
What if I commute or want to travel with another person such as a friend or spouse?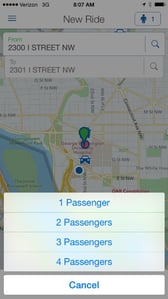 My girlfriend happens to work only one Metro stop from me and we find ourselves on similar commute patterns relatively often. I was curious what would happen if we both wanted to catch a Split together since cars could potentially be picking up other passengers. Thankfully, there is an option at the top right of the app to increase the passenger count which also increases the cost of the ride. My $3.82 fare would have been $5.73 instead. Not a bad increase, rather than doubling the app only charges 50% extra for an additional passenger. The idea being that you are reducing the carpooling ability of the car by one seat – still cheaper than the prices I was quoted by Uber.
My only complaint with the system at the moment is the address search looks to be missing a lot of restaurants and key points most other apps include. When picking my Foggy Bottom Metro Station destination I was unable to find the Station in the address lookup. I ended up moving the pin right on to where the Metro Station is located which is not very handy if you aren't exactly sure of your destination's absolute location.
Overall, Split seems to be a very affordable transportation option here in DC. It seems to be very similar in most regards to Lyft and Uber but with the promise of reduced prices at the cost of possibly having another rider hopping into the car with you. Some will continue to prefer a private car to reach their destination but Split looks promising for those looking to save a few dollars.
Update 1/13/2016:
Since initially writing this post more than 6 months ago, I have used Split on a myriad of trips including our 2015 Amazing Commute Race. In my subsequent uses of the platform, I have seen some improvements while also being irked by similar issues I had on my first trip.

Split definitely deserves praise for having faster pickup times than when they first launched, likely attributable to more drivers on the platform. The driver icon that moves on the map to show where your driver is located seems to be much more accurate. Split has also extended its service area drastically to also include Glover Park, Columbia Heights, Capitol Hill, Southwest and Petworth.

However, the app still has trouble knowing certain locations by their names. In my initial write-up I noted that Foggy Bottom Metro Station does not show up in the app so you need to place the arrow yourself, a problem that still persists to today. It does seem many other major restaurants, landmarks and sights have made it in, though. The service also hasn't extended to Arlington yet, but we're keeping our fingers crossed.

The two heavy hitting transportation network companies, (TNCs) Uber and Lyft, have since launched their own carpooling apps (uberPOOL and Lyft Line) in DC with the distinctive difference of being able to go outside of DC, though there are still boundaries. However, Split continues to be the cheapest instant-carpooling option within the District itself.