We've all seen it before, that person who deftly places her bike in the rack mounted to the front of a bus or expertly tucks his bike into the back of a Metro car like it was second nature, but many people lack the know-how to do the same themselves. Fear not, it's really pretty simple and after reading this short post, you'll be ready to take your bike on public transit too. Bringing your bike on transit really increases the distance you are able to travel in a short amount of time.
Ever have that problem where Metro or bus won't get you right to your buddy's apartment? No worries—by bringing a bike on the bus or Metro, you're able to lessen the amount of time it takes to make that first mile/last mile connection.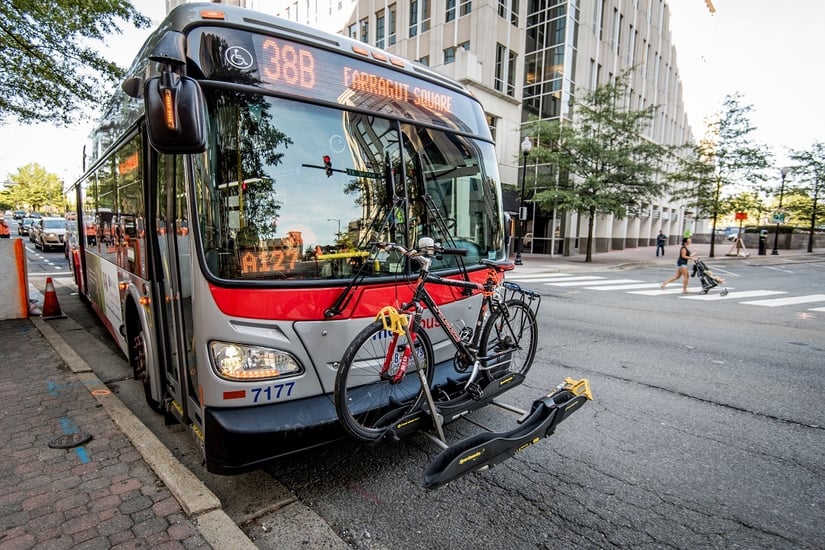 Metrorail Rules and Tips
Bikes are allowed on Metro at any time; rush hour restrictions were lifted in 2019.
Bikes are not allowed on Metro on July 4 or during other high ridership events—it's too crowded for bikes.
Make sure you use the doors at the ends of the train cars to enter and exit with your bike.
During weekdays, one bike is allowed at each end of every train car. You and a friend can only double up your bikes at one end of a car on weekends.
Use common sense. If a train car is clearly too crowded for you to get your bike on board using either the first or last doors of a car, try an adjacent car for more space or wait for the next train.
Always use the elevators to get your bike up to street level; bikes are not allowed on escalators.
Metrobus, ART, and Other Local Bus Tips
Every Metrobus and ART bus has a bike rack on the front that can hold two bikes of almost any size.
To access the bike rack, simply pull the handle and gently lower the rack down. Place your bike wheels in the tray and pull the rack's arm up and over the tire. This arm will hold the bike in place while the bus is moving.
Most bus drivers are incredibly awesome and will give you time to get your bike secured in the rack. If you are unsure and need assistance, just ask. You are supposed to be able to load and unload your own bike but drivers can offer assistance if you are confused on your first try.
Exit out the front door of the bus and let the driver know you need to get your bike before they continue driving.
Check out this great video from our friends at Car-Free Diet.
Bike Your Commute
If you're a first time bike commuter and need help with your route, contact Arlington Transportation Partners. We can provide a customized route for Arlington residents and for anyone who works in the County.

Photo Credit: Sam Kittner/Kittner.com for Arlington Transportation Partners