While we are big proponents of using alternative transportation modes for commuting, we obviously encourage going car-free or "car-lite" for other trips too! For the most part, all of us here at ATP practice what we preach and usually get around by walking, biking, or taking transit – and for me, this past weekend was no exception.
It's often assumed that with driving you can get the convenience of traveling door-to-door and is faster than riding the bus or taking Metro. While that may be the case in more suburban areas with unlimited parking, going out to dinner in the U Street area of DC is a completely different story. Friday night, instead of driving and spending valuable time circling for a spot or parking miles away, my friend and I decided it would probably easiest (and cheaper) to take transit into the city than driving or taking a cab.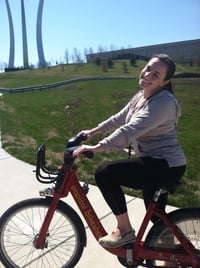 We got on a bus at a stop right outside our apartment, which we timed perfectly using NextBus on the WMATA website, then arrived at the Pentagon Metro stop where a Yellow Line train was just pulling into the station. Less than fifteen minutes later we arrived at the U Street stop and only had to walk about half a block to our restaurant – talk about to door-to-door service! We came home the same way, putting our round-trip travel costs at around $6 each.
On Saturday, after walking to and from brunch in the morning, my roommate and I decided that we "needed" some new shoes; therefore a trip to Pentagon City was in order. Since the weather was beautiful and finally feeling like Spring, we checked out bikes from the new Capital Bikeshare station across the street from our apartment on Columbia Pike. From there, we had an easy and mostly downhill 1.5 mile ride to one of the three CaBi stations in Pentagon City. While we took the bus back home (not that easy to bike with shoe boxes!), our short trip was very convenient and so much more fun than driving!
Finally, I ran in the Cherry Blossom Ten Miler on Sunday morning, which involved another multi-modal trip, although it was much earlier at 6:30am. Unfortunately, the bus service before 8am on Sunday mornings is not that frequent and was only coming at times that either would make me super early for the race or miss it completely. Since I really didn't want to wake up my roommate at 6am for a ride to the Metro station, I went across the street to the Capital Bikeshare station again and checked out a bike for the quick 10 minute ride to Pentagon City. From there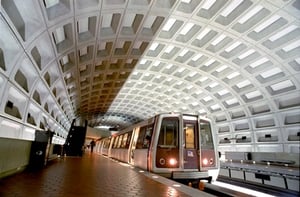 I took the Metro to the Smithsonian stop, and made it to the race headquarters at the perfect time.
My weekend of car-free travel was a great example of how easy it is to get around by public transit, biking, or walking anytime of the week! Of course car-free transportation may not always be as smooth-sailing as mine was, but neither are trips by driving. What is important to me is the variety of options that are available when I need them, whether it's the bus, Metro, bikeshare, or walking – having these choices is the ultimate convenience.
For more multi-modal travel experiences, check out our own Elizabeth Floyd's blog post from a few months ago, or this post about one man's car-free commute from DC to Baltimore! Are you a multi-modal traveler? Let us know!