I bike to work on a daily basis. Unlike the folks in this New York Times article from 2013, I only have to ride 5.5 miles to get to work. So for those of us who can't bike to work, but don't want to drive everyday, what non-SOV (single occupancy vehicle) options are there for commuters who don't live close to local public transportation systems?
In the Northern Virginia and DC region, there are actually many choices available for employees who live further away from Arlington in areas such as Fairfax, Loudoun and Prince William counties. In addition, the recent transit benefit increase has made these options more affordable for commuters as well. Read below to learn about the different modes and transit systems that can help make your long-distance commute less stressful, cheaper and a better part of your day!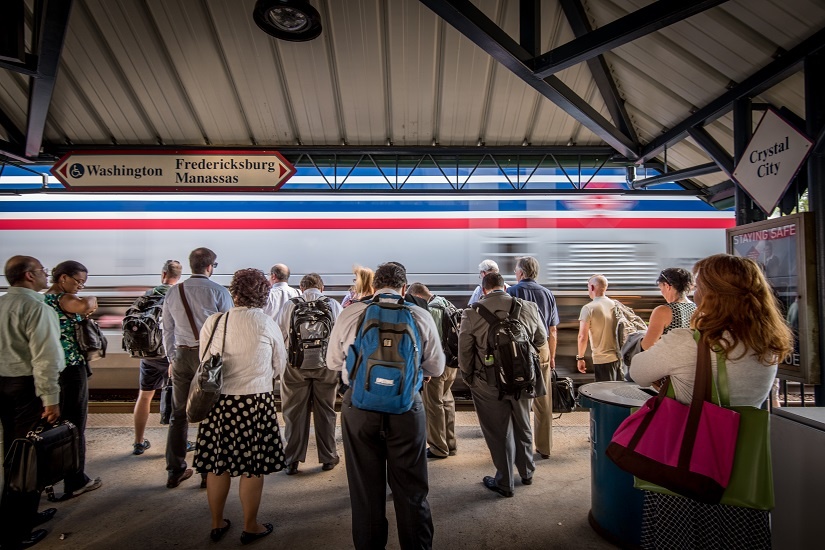 Commuter Train
Commuter trains are a great way to get to work – not only can you avoid the typical traffic congestion and frustrating drivers, you can also read, check email or just relax during your commute! The
MARC train service
brings riders from various points in Maryland to Union Station in DC, where they can transfer to the Metro to get into Arlington.
VRE rail service
, whose on-time performance was 96% in 2012, picks up commuters from several points along the Manassas and Fredericksburg lines. The trains go directly into Arlington to the Crystal City VRE station as well as downtown DC.
Commuter Bus
There are several transit systems that offer commuter bus service for commuters into Arlington and DC. These buses have similar benefits to commuter trains, and are often able to skip traffic due to HOV or Express lanes. Potomac and Rappahannock Transportation Commission's (PRTC) OmniRide provides commuter bus options from Manassas, Woodbridge and other outlying areas, with service to the Pentagon, Crystal City and the Rosslyn-Ballston Corridor. Loudoun County Transit also provides commuter bus service from areas such as Leesburg, Ashburn and the Dulles area to Rosslyn, the Pentagon and Crystal City. Both OmniRide and Loudoun County Transit accept SmarTrip cards, so be sure to talk to your employer and take advantage of the transit benefit increase!
Carpool/Vanpool
Finally, as many commuters are aware, carpooling and vanpooling with coworkers or neighbors can be great door-to-door options that don't involve driving alone. These options can help save money by reducing gas and car maintenance expenditures, toll fees and parking costs. For vanpool riders, the $260 transit benefit can be used to cover the associated costs, depending on the vanpool company. You can read more about your vanpooling options on JoinAVanpool.com
If you live far away from where you work, consider one of these transportation options! And while biking all the way to work may not be feasible for you, try riding your bike for the "first mile" and "last mile" of your commute – ie. instead of driving to the Park and Ride lot or commuter train station, ride your bike or walk. Every little bit counts!
Photo Credit: Sam Kittner/Kittner.com for Arlington Transportation Partners