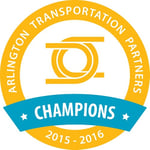 Arlington Public Schools staff and students are excited to be returning back to school for the new school year this week. Arlington Transportation Partners (ATP) is equally excited and looks forward to this first year with APS, helping everyone get to their school healthier, safer and more sustainably. Here are some updates to start 2015-2016 off right!
Champions – So far, 9 nine schools and the Arlington Employee Assistance Program have become transportation Champions! These early adopters are eager to share transportation information with their staff and families and to help everyone make better informed decisions. Throughout the year, Champions will promote biking, walking, carpooling and transit by participating in events, creating bike trains/walking school buses, creating carpools, recording staff/student modes and more. Each activity earns the school a badge and helps them level up from Bronze to Silver to Gold and maybe even to Platinum throughout the year!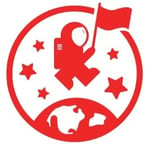 Discovery Elementary School – 2015-2016 welcomes a brand new school, Discovery Elementary School. Located next to Williamsburg Middle School, Discovery honors astronaut John Glenn, who lived in the neighborhood, with an astronaut mascot. The elementary school is special because it is Virginia's first Net Zero Energy Ready Building, which means it has energy-saving features including LED lights, solar panels, "daylighting" strategies and geothermal heating and cooling. Discovery is one of Arlington's newest LEED buildings, meaning it has fulfilled sustainable transportation requirements, including transit accessibility, bicycle storage, changing rooms for staff and space for low-emitting and fuel efficient vehicles. As one of ATP's Champions, Discovery will work hard to make sure that its environmentally-friendly status is not harmed by the number of cars arriving daily at its site. Being stewards of the environment is important to APS, and ATP can help.
Be A PAL – Whether you are getting to school, or going past one, it is important to remember to Be A PAL – Predictable, Alert and Lawful. Being a PAL means traveling predictably, staying alert, and obeying traffic laws. Think of it as setting a good example for children returning to school by modeling proper behavior while driving, riding bikes or walking.
Arlington Transportation Partners looks forward to welcoming even more Champions into the program throughout the school year.