For Ann, a government contractor at the Temple Army Readiness Center, having a secure ride in a vanpool came at critical point in her life when she broke her foot in December 2017. Riding in a vanpool literally was a life saver for Ann and she is very appreciative that her training officer showed her a building announcement calling for new vanpool riders.
"If I hadn't found the vanpool, I would have had to quit my job on day three. I was in far too much pain to sit behind the wheel on I-66 up to two hours a day each way. The van has exceptional drivers and E-ZPass, which has made it a great experience," she explained.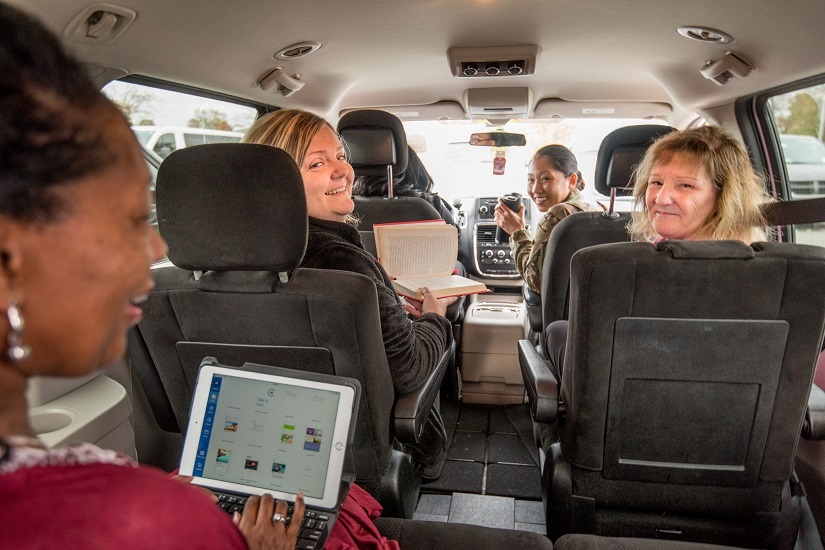 Do you travel 15 miles or more to work and are curious how a vanpool might be like? Ann was recently chosen for the Vanpool Connect monthly giveaway and we were able to chat with her about her experience. Here's a sneak peek into vanpooling and what it entails.
Tips for the Vanpool Newbie
Q: What is something you learned about vanpooling that you didn't know before?
A: I have never been a member of a vanpool so all of this was new to me. I recommend Guaranteed Ride Home, a free service provided by Commuter Connections. Vanpool riders can use it up to four times a year in case of an emergency if you have unscheduled overtime and miss your vanpool schedule.
Q: What advice would you give to people who are interested in joining a vanpool?
A: Don't wait, try it, you will like it! Right now, the newbie in our van offered to drive. Also, if you drink coffee, make sure your cup is covered.
Supportive Atmosphere
Q: What is the atmosphere like in your vanpool?
A: The atmosphere in my vanpool consists of friendly, cheerful, helpful, and problem-solving individuals. Each one of us has thrown out a work related question for the group and came up with some great solutions. I have learned information that has helped me acclimate to my new job, met a military spouse, and count on the "decompress time" with people who understand my work situation.
Quality of Life
Q: What difference has vanpooling made in the quality of your life?
A: Since vanpooling, I have been able to spend more time with family and less time on the road. If I was not in a vanpool I would have to drive myself and I would most likely miss dinner with my family.
Q: What is your favorite activity to do while vanpooling?
A: I check my email while I am riding in the vanpool, which is something I could not do if I was driving.
Why Not Try Vanpooling?
You may not have an injured foot like Ann did, but if you are looking for a low-cost, easy, and convenient way to get to work you should definitely try vanpooling today. Being in a vanpool not only means having a stress-free commute that avoids tolls, it gives your time back, allowing you spending more time with family.
Photo Credit: Sam Kittner/Kittner.com for Arlington Transportation Partners