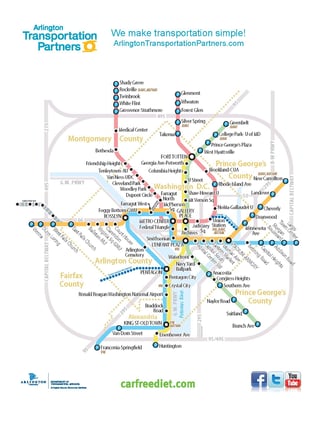 As part of our commitment to providing commuting information to employees and residents in Arlington County, ATP is excited to announce two new initiatives that are now available to help promote the various transportation options available throughout the county and the region.
We are now offering a poster-size Metro system map, which is similar to that of WMATA's but has since been discontinued. In addition to showing the five Metro lines and all 86 stations, the map includes features such as the location of the Silver Line, future streetcar lines, the "Farragut Crossing" as well as stations that have Park and Ride lots. These maps are perfect for posting in places like your company's office, the lobby or community space at your residential property, or at the concierge if you are an hotelier. Priced at $100, the dimensions of the Metro map can be customizable up to 30 inches wide, depending on your needs. We can also send you a free electronic version of the map in PDF format, which can be easily sent to staff or residents, or posted on your organization's website. For more information or to place an order for a map, contact us today!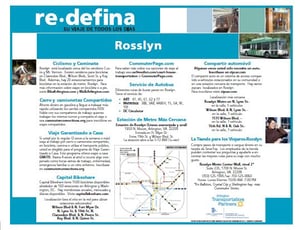 The second new feature we are pleased to announce is the "ATP in Spanish" initiative. Several of our materials and publications are now available in Spanish, including our Neighborhood Quick Glances guides, the ATP Services Guide, as well as the Guaranteed Ride Home postcard. These materials provide valuable information on transportation options available in your area, as well as different programs and strategies that can help improve your employees' or residents' commutes. We can provide you with hard copies of these materials on request, or we can distribute them at your company or property's health or benefits fair. To download electronic versions, check out the new Spanish page on our website, which has all the translated pieces that are available.
If you would like to order an ATP Metro map or request copies of one of our translated materials, please call (703) 247-9299 or email us at solutions@transpartners.com. Feel free to contact us for more information!