At Arlington Transportation Partners (ATP), you could say that we walk the talk and love taking advantage of all the transportation options available to us—whether it's for commuting, traveling to an event, or running to meetings throughout the County.
One option that has come in handy a few times over the years is carsharing. With different services available in Arlington to meet different needs, our team has become adept at using both car2go and Zipcar for various work-related trips.
Some people might argue that carsharing is the same as driving and still contributes to traffic and emissions.
While it's still driving, it's also a shared mobility option, so many people can access it as a transportation option when needed. This actually reduces the number of cars on the road. In fact, a 2016 UC Berkeley study showed that one car2go vehicle replaces 11 private vehicles and reduces the number of vehicle miles driven overall.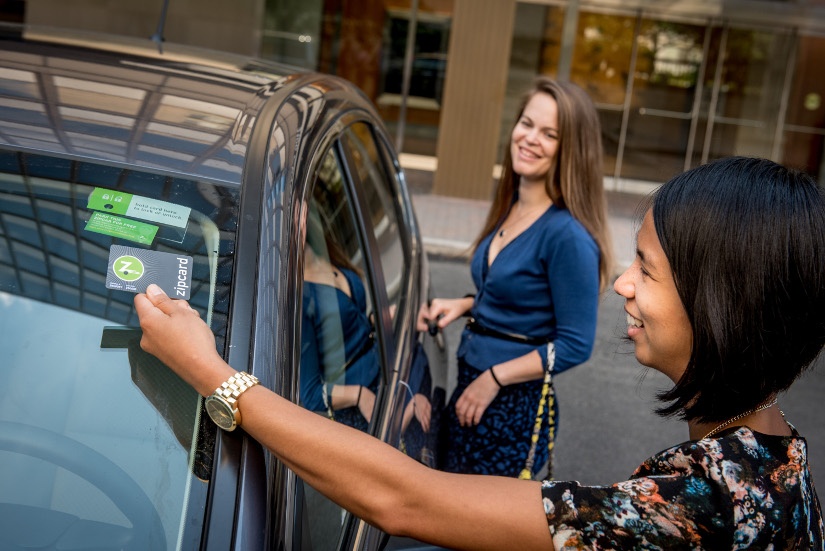 Carshare is a great way to get around during the day without needing your own car. For commuters who take transit, bike, walk, or rideshare to and from work, carshare still provides the accessibility of driving to non-transit locations without the cost of a personal vehicle.
How ATP Carshares Throughout the Workday
Here are a few recent scenarios of how the team has used carshare during the day. Our corporate accounts with both car2go and Zipcar make them easy to use for work purposes.
Multiple meetings in Shirlington and Columbia Pike
We work with several properties in South Arlington including Columbia Pike and Shirlington. While there are decent transit options to get there from Rosslyn, the timing didn't work out with my meeting schedule, so car2go ended being the best option to get to back-to-back meetings—providing both flexibility and accessibility during the day.
Meeting in Fairfax
My colleague Maggie, typically has a quarterly meeting out in Fairfax that lasts several hours. Since the location isn't near a Metro station and involves traveling a further distance than typical city driving, Zipcar ends up being the best option since we can pick it up and return it to the same spot.
Drop-offs between schools
Elizabeth, our Schools program representative, holds events throughout the year to engage teachers and encourage other modes besides driving alone to work, particularly carpooling. Since many Arlington public schools are located in more residential neighborhoods, it's often easier for Elizabeth to drop off materials and information for events by using a car2go to make multiple stops and easily travel between schools.
Corporate Carshare Account
Consider a corporate carsharing account for your company and offer flexibility and convenience for employees who don't drive to work by providing an additional option to travel during the work day. ATP can help your company start the enrollment process.
Photo Credit: Sam Kittner/Kittner.com for Arlington Transportation Partners