Telework is a great work strategy to reduce commute stress, increase productivity and decrease business cost. In fact, there has been an increase in the number of employees choosing to work from their homes at least part-time, in recent years.
So what is telework? What's the benefit of teleworking? How do I get started? Let Arlington Transportation Partners (ATP) help answer these questions.
In a nutshell, telework means working at an alternative location other than your main/central worksite. We understand that not all jobs are conducive to telework but for those that are, it is worth considering a pilot program. VPN-connectivity, VoIP, web conferencing and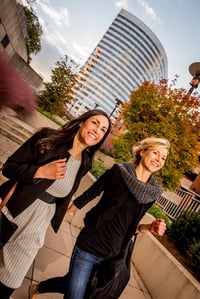 other available technology has made teleworking easy. Managers and employees can both work in perfect harmony from two remote locations.
There are several advantages of teleworking:
Reduce real estate costs
Decrease employee recruitment and training cost
Allow employees to be more effective and assure uninterrupted work
Improve quality of life
Allow business continuity
Benefit the environment
Our newest Platinum Level Champion – ARC, located in Clarendon, have formalized their telework program and are very happy with the results.
"ARC has embraced teleworking in our organization for a variety of reasons. It helps to attract and retain employees, limit the impact of operational disruptions due to inclement weather and other events and provides flexibility with our workspace needs. In addition, employees benefit by eliminating stressful commutes and by providing a positive work/life balance."
ATP has partnered with Telework!VA to assist companies in establishing and administering a telework program. Telework!VA is an online resource to help businesses start or expand a formal telework program. Did you know that businesses located in Virginia may qualify for tax credits to offset the costs of developing a telework program? A business is entitled a tax credit of up to $1,200 per employee, up to $50,000 per organization, for eligible telework expenses incurred during taxable years 2012-2016. For more information about the Telework Tax Credit, click here or email us at solutions@transpartners.com.
ATP can help your company in a variety of ways such as explaining different program options (pilot program, formal telework program etc), hosting a workshop or brown bag lunch on teleworking or connect you with other telework resources.
Ready! Set! Telework!