There is exciting news coming out of Park Georgetown Apartments in Rosslyn – management there has decided to clean out and convert a number of the unused basements of their garden style buildings into clean, secure, and easy-to-access bike storage facilities. Park Georgetown is an older, yet beautiful, multifamily apartment complex overlooking Fort Bennett Park and located right on the
Custis multi-use trail. Management has been striving to find ways to maintain and increase the property's marketability in light of all the high-density, amenity-rich residential buildings that are popping up all over Rosslyn and the rest of Arlington County.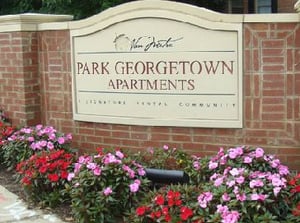 Residents at Park Georgetown are eager for better bike amenities due to the inconvenient and limited bike storage currently on the premises. With the Custis Trail adjacent to the property and the activity centers of Rosslyn and Georgetown within easy biking distance, residents at Park Georgetown Apartments would like to be able to securely and conveniently store their bicycles on site so that they can travel by bike more often. It is commendable to see a property like Park Georgetown recognize the preferences of its residents and take steps to meet those needs.
Park Georgetown does have a lot of work to do in order to accomplish this project though. Currently, there are two overcrowded bike storage rooms that are accessible only by stair. In order to renovate the existing basement bike storage rooms and repurpose the basements of the other buildings, the management team at Park Rosslyn needs to perform a bike audit to see which bikes are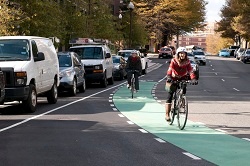 abandoned and no longer used. ATP has put Park Georgetown in contact with Phoenix Bikes to take away any abandoned bikes and recycle them through their youth education programs. Once that is done, increased lighting, bike racks, and bike wall mounts can be installed. Finally, management hopes to clear out unused utility rooms that are adjacent to the soon-to-be bike storage rooms to allow ground level access to the basement. This will eliminate the need for residents to haul their bikes up and down the stairs to get to the storage facilities. All-in-all, this undertaking should not be much of a financial investment for Park Rosslyn to greatly increase the perceived value and marketability of their rental units.
This is just one example of the many forward-thinking residential properties in Arlington County that is adapting to the changing needs and preferences of its population. What kind of amenities, bike or otherwise, are attractive to you? Have any of your past relocations been influenced by the amenities offered by residential properties?