I-66 is locally famous for its heavy traffic and Virginia's Department of Transportation (VDOT) plans to transform I-66 both inside and outside of the beltway.
The stretch of interstate from Exit 64 in Fairfax County to Exit 72 in Arlington County is defined as inside the Beltway and will now operate strictly as express lanes with a toll during peak travel hours Monday through Friday. Outside of tolling hours, entry to the express lanes will be free.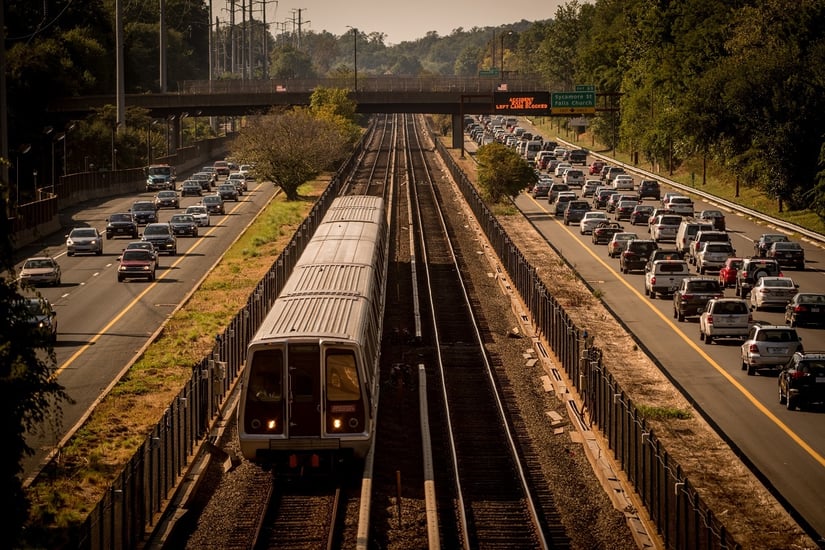 I Use I-66 to Commute. How Will I Be Affected?
If you drive alone eastbound on I-66 during the hours of 5:30-9:30 a.m., you will be subject to a toll. If you ride with at least one additional person in the car and have an E-ZPass Flex, you can travel I-66 for free.
The same rules apply for anyone traveling westbound from 3:00-7:00 p.m.
Anyone traveling outside of these hours or in the opposite direction during HOV hours will not be affected by tolling.
What Are My Options?
Anyone can use the I-66 express lanes, with a valid E-ZPass mounted in the car. Commuters can choose to pay a toll if driving alone or can consider sharing the ride.
Carpools and vanpools travel for free on the I-66 express lanes with an E-ZPass Flex; additionally, commuters can choose a regional bus option* like the Fairfax Connector or Loudoun County Transit to travel the I-66 corridor.
*Prices for commuter buses vary.
When Will Tolling Begin?
Tolling is set to begin in early December 2017. Toll gantries have been added along I-66 inside the beltway, and are currently in testing mode. Any flash of light you see from now until the end of November is simply a test; similarly, these are also not speed cameras.
What Are the Toll Hours of Operation?
Tolls are in effect Monday through Friday, 5:30-9:30 a.m. (traveling eastbound) and 3:00-7:00 p.m. (traveling westbound).
How Do I Know the Price of My Toll?
Before entering I-66, drivers will see pricing signs with the current toll before committing to I-66. The price on the last toll sign before entering I-66 will be applied to your E-ZPass account.
Do I Need an E-ZPass?
Yes. Every vehicle on I-66 will need an E-ZPass. You should choose between the standard or the E-ZPass Flex based on your plans to carpool. The E-ZPass Flex allows you to use I-66 for free when switched to HOV mode.
Only motorcycles and on duty public safety personnel are exempt and will not need an E-ZPass. Those previously exempt (eg. hybrid/clean fuel cars, Dulles Airport staff) will now be required to pay a toll.
How Much Does an E-ZPass Cost?
An E-ZPass costs $35 with $15 immediately available in toll fare. The remaining $20 balance is available as toll fare once you register your E-ZPass online, essentially making the E-ZPass transponder free.
Prepare Before Changes Begin
Now is the time to plan for your new I-66 experience. Perhaps you will use Metro or bus instead, or use E-ZPass Flex's free HOV option to your advantage and carpool. Whatever you choose, Arlington Transportation Partners has resources and tools to make your commute more manageable.
For more questions and answers, download our I-66 Frequently Asked Questions and visit Commute66.com.
Photo Credit: Sam Kittner/Kittner.com for Arlington Transportation Partners