Many companies have identified sustainability goals to address the climate challenge but fall short of connecting local efforts to larger global initiatives. Evaluating workforce commuting modes can help businesses prepare for their employees' return-to-work and improve their health and wellness, while also contributing to a more sustainable environment.
Arlington Transportation Partners (ATP) specializes in helping Arlington County businesses implement customized transportation programs that directly benefit employees and the environment. These programs help take vehicles off the road, improve air quality, and reduce health problems in Arlington communities.
Here are four ways you can partner with ATP to enhance your employees' commute and be a leader in sustainability in the community: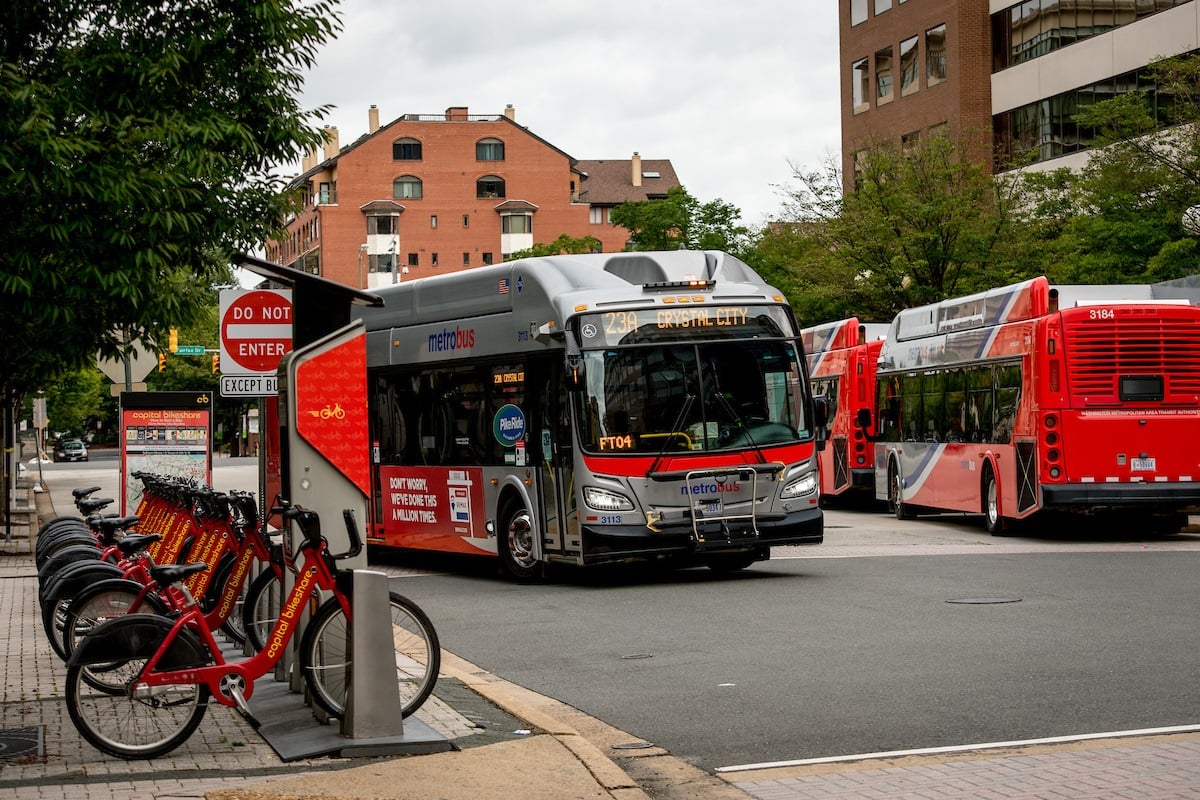 Implement a Commuter Benefit
Provide a pre-tax or direct commuter benefit through SmartBenefits to help employees with the cost of commuting to and from work. By offering a benefit to employees for commuting by transit or vanpool, you are decreasing the number of vehicles on the road which in turn reduces greenhouse gas emissions and the harmful pollutants that cause poor air quality.
Promote Ridesharing
Ridesharing programs like carpool and vanpool, reduce your business' carbon footprint while helping employees build community and connect with the office from areas not served by other transit services. Work with ATP to develop a ridesharing program and explore opportunities for employees to commute together via a survey or density plot map.
Whether your employees choose to carpool, slug, or vanpool, ridesharing programs are a great way to eliminate toll fees through the use of HOV lanes, maximize parking availability, and relieve traffic congestion by eliminating more cars from the road.
Offer a Capital Bikeshare Subsidy
Capital Bikeshare offers a convenient, affordable way to commute in the DC metro area. Biking is also climate friendly as it reduces noise pollution and helps employees improve their health while commuting to work. ATP can also help your business take advantage of discounted rates through Capital Bikeshare's corporate program to positively impact your bottom line.
Expand Your Telework Policy
Expand your existing telework policies to include remote work or other flexible schedules like a 4/10 or 9/80 compressed work schedule to help employees skip the commute altogether. Offering increased workplace flexibility takes cars off the road which in turn decreases ozone depletion, and enhances overall employee health and wellness through a greater to work-life balance.
Include the Commute in Your Sustainability Plan
ATP can help you explore transportation programs to enhance your workforce's commuting experience. Our employer toolkit can provide you with insights on a variety of programs that can play a part in your holistic sustainability goals. As a bonus, it include an opportunity assessment you can share with your ATP rep for customized guidance and support.
Photo Credit: Sam Kittner/Kittner.com for Arlington Transportation Partners