The Capital Bikeshare corporate program allows employers to offer subsidized Capital Bikeshare memberships to employees. The subsidy is possible at multiple levels that can be determined by the employer depending on what works best for their organization. Setting up the program is an easy task, and you'll have employees riding the iconic red bikes in no time!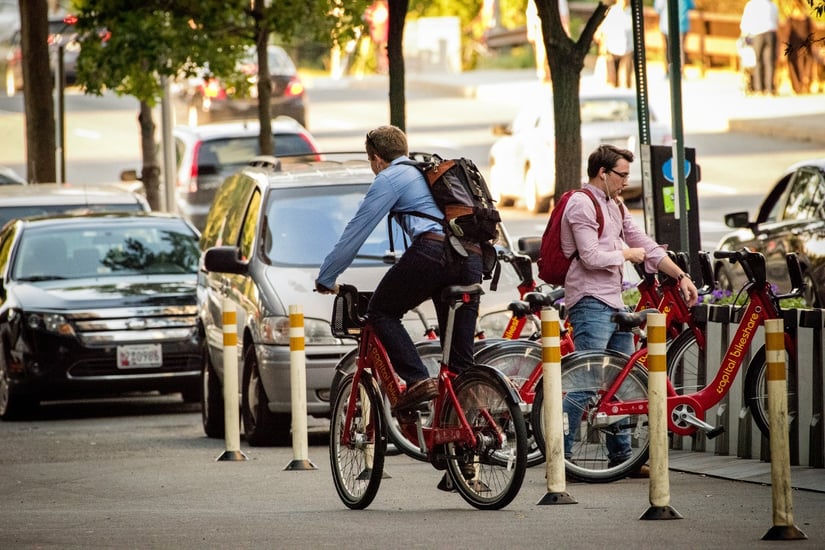 1. Gauge interest
Determining whether or not employees want to use bikeshare is a helpful first step to understand what implementing a benefit would cost and how many people are actually interested around the office. Finding out who would be interested could be as simple as asking employees directly, but that may not be feasible in large offices. Consider using an online survey tool (many free ones exist) or simply emailing your colleagues to see how many would take advantage of the membership.
It's important to note that the corporate program has no required minimum purchase, so as long as you have a few employees interested you definitely qualify to join.
2. Reach out to your ATP rep
If you've already figured out that employees have interest, reach out to your ATP Rep to get started with the application and learn additional information on the program. Capital Bikeshare can seem daunting at first, but the system is actually very simple after reading a small amount of information. ATP can even come out to your organization to do a presentation on the program so employees understand how to use it (more on that later). We also provide helmets to employees during your initial signup, so there's no reason anyone won't want to hop on a bike ASAP.
Not sure who your ATP rep is? Contact us and we'll point you in the right direction.
3. Decide on membership level
Capital Bikeshare corporate memberships are available at four different levels for each organization that applies. An annual membership normally costs $85 per year for an individual, but providing memberships as a benefit reduces that cost to $50 as long as the company subsidizes a portion of the cost. The level you choose depends on what your organization can afford to subsidize!

The chart above explains the different subsidy amounts. So, for example, at the Bronze Level your company pays 25% of the cost of an annual membership ($12.50) for each employee that signs up. That's nearly $1 per month per employee to secure a price of only $37.50 on a membership that normally costs $85.
If you are a real transportation champion, you'll likely look at the Gold Level which subsidizes the full cost of an annual membership at $50 per employee per year. And, at the Gold Level, any added usage fees are charged to the employee rather than your organization. We highly recommend this level as it gets far more employees out on the road with their new benefit!
4. Apply for your account
Now that you know people are interested and what level you want to apply for, it's time to apply! The Capital Bikeshare corporate program application can be acquired from your ATP rep. Once filled out, we will send it to Capital Bikeshare to either purchase codes for employees or set up an online portal.
Online Portal? Codes? What's the difference?
Online Portal
We strongly recommend you go this route. The online portal allows your company to exist in the Capital Bikeshare website so employees can sign up at any point during the year and you simply receive an invoice in the mail for those who sign up. Don't worry, employees need a password to retrieve their benefit and everyone who signs up must be approved by the human resources contact attached to the account.
Codes
You can purchase vouchers for employees at the $50 rate and provide the codes to employees. The process exists, but we definitely suggest you go the Online Portal route since employees do everything on their end. It's far less work and much quicker. But, we do understand some companies only need a few codes – so this option is available to those who need it.
5. Spread the word to employees
Congratulations! You are a corporate member! The next step is to get your employees on board. You can tell them about the benefit through any channel of your choice.
Email a flyer to employees
Announce at a staff meeting
Add the information to company intranet
Host an ATP event to present on the new benefit
Ride a bike around the office shouting that Capital Bikeshare is now available
ATP can provide customized flyers for your office – and we can even come out and present on the benefit with a PowerPoint so everyone knows how to make the most of their new form of transportation.
That's it.
Providing big discounts to the region's bikeshare system is easier than you had initially thought, no? Employees love taking advantage of this benefit, and we won't say anything if you sign yourself up, too.
Photo Credit: Sam Kittner/Kittner.com