Earlier this month, Greater Greater Washington posted an amazing article on the 'Five bus lines everyone in DC should know, love and use.' Its purpose? Simple, to help commuters explore their transportation options. The article was so great in fact, that we thought Arlington deserved a top five bus list.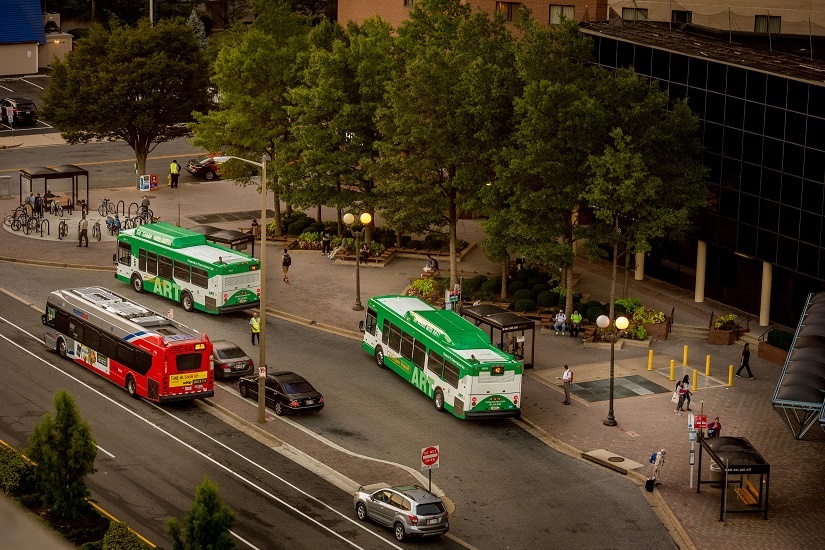 For Arlington County, and in my opinion, buses are the life blood that not only connect the other transit systems in the area, but also gives riders the option of being multimodal in an instant. These five highlighted routes are ones you should mark as favorites in your transit apps, as they are the ones that will come in handy when you're trying to easily switch or need to access part of Arlington not on a Metro line.
The ART 43 is one of my favorite bus lines to share with business professionals. It's not only a great option that connects Crystal City to Rosslyn in just 13 minutes, but the ART 43 also specifically connects commuters coming into Arlington County via the VRE.
In fact, while in Crystal City early Tuesday morning, we noticed ART employees making sure the connection between drivers and train passengers successfully happened, informing drivers of incoming VRE trains.
The old tried and true ART 45. When I lived on Columbia Pike, this was my go-to bus. Forget fighting for a spot on a Blue Line train on your evening commute. Hop on anywhere from Rosslyn to Courthouse and hop off anywhere on the Pike, as far down as South Carlin Springs Road. Making multiple stops in between, including DHS, the ART 45 efficiently connects South Arlington to North Arlington in about 20 minutes.
The ART 42 is all business, connecting riders from the Ballston Bus Station to the Pentagon and vice versa. With only five stops on the entire route, you can travel start to finish in just 33 minutes. It's our favorite bus for connecting the Rosslyn-Ballston Corridor (Orange Line) to South Arlington (Blue/Yellow Line) without having to transfer at Rosslyn Metro Station.
A, B, E, J, P – pick your bus, but all service Columbia Pike from Annandale or Culmore down to Pentagon City or Pentagon Metro Station. Without a streetcar, the Metrobus 16 series is your best form of transit along the Columbia Pike corridor.
An oldie but a goodie, the 38B will always be in any top five list we curate. We've mentioned it before as your white knight when Metrorail is having a bad day, but the reason the 38B is a favorite is due to the service area coverage. Stopping at six different Metro Stations, with access to four different Metro lines, the 38B serves riders from Ballston to Farragut West. So when you're feeling a little too claustrophobic underground, join the rest of us at street level and ride the 38B, the Orange Line with a view.
Plan Your Commute
Need help choosing a bus line or a metro line? We can help with a custom commute.
Photo Credit: Sam Kittner/Kittner.com for Arlington Transportation Partners