Unless you're a genius and have a fantastic memory, it's nearly impossible to know all your options in the transportation network, i.e. every bus route, Metro Station, bike lane, Capital Bikeshare station, etc. That's why new technology and resources have become incredibly helpful in finding convenient ways to get around without a car at the touch of a button. Below are some new and older tools that will make that trip to work, the gym, the bar, etc. a little easier to figure out. Here are 3 of our favorite tools:
CarFreeAtoZ
Recently released in a beta version earlier this Fall, CarFreeAtoZ is an exciting new trip planning tool from Arlington County Commuter Services that can help you find the best option from point A to point B either on transit, biking or walking. The multimodal tool also compares the financial and health benefits from each suggested route as well as time savings and emission reductions. In addition, CarFreeAtoZ is great for displaying first mile/last mile trips such as bike to Metro or walk to bus to make sure you have the fastest and most convenient route possible. Try it out today and share your feedback!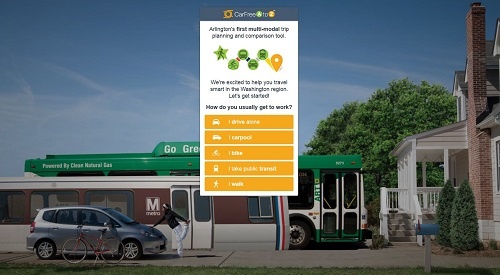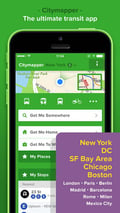 Citymapper
This free smartphone app available on iPhone and Android offers trip planning features similar to CarFreeAtoZ but also includes real-time info that can help travelers plan while they're on the go. The app has incorporated Capital Bikeshare station data as well, making it easier for those who may not want to wait for the next Metro or bus for their one-way trip.
Additional cool feature: the app also works in San Francisco, Chicago, Boston, New York and several European cities – it's great when you're traveling and not as familiar with a transportation system!
WMATA Trip Planner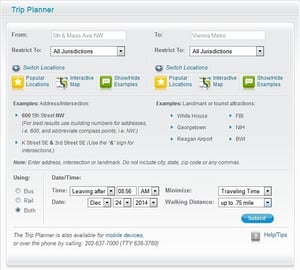 The trip planner rider tool from WMATA is not as interactive as the others, but gives clear and straightforward directions for riding the bus, train or both to travel between destinations. The trip planner also includes all the local bus systems including ART and DC Circulator, so it's a comprehensive search of all the best transit options in the region. This tool also includes costs of each suggested itinerary, which takes into account bus transfers and SmarTrip card fares.
No matter where you're headed in the Arlington and DC area, there's probably more than one way to get there! Before you leave for your destination, be sure to check out one of these trip planning tools to reduce travel stress and to help save you time and money.
These are just 3 great trip planning tools - do you have a favorite? Leave us a comment to let us know!