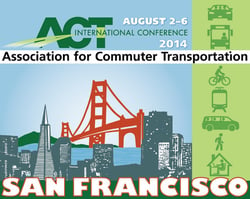 Last week, the ATP team hopped a flight and headed to California for the 2014 Association for Commuter Transportation (ACT) Conference in San Francisco. The goal was to learn about and discover innovative commuter solutions. Learn and discover, we did! Topics included:
Implementation and Policy
TDM Strategies
Sustainability
Outreach and Marketing
While we all walked away with new ideas, insight to other area programs, and access to a lot of great research, Keara Mehlert (Business Development Manager, Developer Services) stated that one of the best outcomes was "[seeing] how progressive Arlington is when it comes to TDM policies and how they're implemented."
Concepts of behavior changes and personalized transportation planning were also heavily discussed throughout the conference and it was inspiring to see that with a bit of innovation, communities have the capacity to increase alternate transportation options (biking, walking, etc) regardless of local or cultural hurdles.
The entire ATP team would also like to extend a huge congrats to Brendan Casey (Business Development Manager) and Keara Mehlert (Business Development Manager, Developer Services) for their graduation from the 2014 ACT Leadership Academy.
The 2015 ACT Conference will take place in Baltimore, MD and ATP is excited to welcome other TDM professionals to the Mid-Atlantic region.
Photo Credit: Association for Commuter Transportation (www.actweb.org)