Interested in joining in a vanpool or recently joined a vanpool? Perfect, this blog is for you.
Did you know vanpooling is one of the most cost effective ways of commuting to work while saving money, reducing stress and allowing you to relax? It also contributes to reducing carbon emissions in the environment. According to a recent mobility study, drive-alone work trips in Virginia have decreased from 81.6% in 2007 to 76.6% in 2015.
In case you may be wondering, vanpools are similar to carpools as they share a driver and passengers have the same commute origin and destination. However, the similarities stop there. Vanpools can accommodate as few as four and up to 15 passengers, must be a vehicle with at least seven seats and be 50% occupied to qualify for federal transit subsidies. They are most cost effective when they start 15 miles or more from their destination. The pricing for the van is fixed on a monthly basis, with the only fluctuation being fuel costs.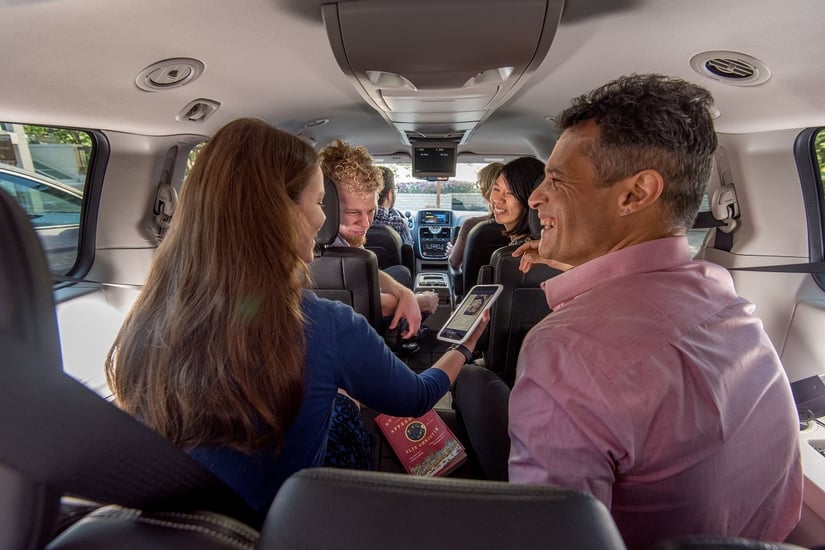 Check out the seven tips below to help set your vanpool up for success and to create an enjoyable experience for your commute to work.
1. Have a Roster
Make sure you have the contact information for all the members in your vanpool. The vanpool provider will make this information available to you at the formation meeting but it is good to include everyone's name, email and phone number in your cellphone as well, in case an emergency may arise.
2. Always Arrive on Time
Plan and prepare yourself the night before to make sure you arrive on time to meet your vanpool at the designated location. Most vanpools are organized to meet at a commuter lot or shopping center at a designated time to depart for their end location.
3. Promptly Pay Your Monthly Share
Be sure to know how much and who to pay your share of the vanpool to each month. Additionally, vanpools are considered transit by the federal government and vanpool participants can pay for their participation in a vanpool with a transit benefit. For riders who receive transit benefits from their employers, they can use the amount they receive to pay for their monthly vanpool expenses, in some cases the cost is completely covered by the transit benefit.
To help even more with the cost, ATP's Vanpool Connect program incentivizes vans with $50 per month, per rider, for the first six months of a new vanpool. Read more here.
4. Determine the Driver and Backup Drivers
Before the vanpool is actually formed, the vanpool provider will help participants organize who will serve as the driver and backup drivers of the vanpool. Everyone in the vanpool can take turns driving on a weekly or monthly basis depending on what vanpool members agree upon.
5. Set Up a Communication Method
While participating in a vanpool, it is important to determine how everyone will communicate with each other. Some vanpools may designate one person who is responsible for communicating to everyone by phone, email or text while some vans might opt to form a group chat. Van members could also use the My Vanpooler app to track their van schedule and send messages to each other through the app. The app includes cool features like a calendar, options to set ridership status for the entire week, see who has the key, send instant messages to other rider and much more!
6. Have an Emergency Backup Plan
Sometimes emergencies happen- a child is sick, a change in your work schedule or unexpected car problems - notify your vanpool as soon as possible when an emergency arises. All vanpool participants are eligible to apply for the free Commuter Connections Guaranteed Ride Home program. The program provides vanpool riders up to four free rides home per year, in case of an emergency.
7. Determine Van Rules
Lastly and certainly not least, it is critical to establish and agree upon the rules of the van such as taking personal phone calls, cologne and perfume, radio preferences, eating, smoking, etc, that will or not be allowed to ensure a positive experience for everyone in the vanpool.
Interested in Vanpooling for Your Commute?
Joining a vanpool has several advantages such as:
Ability to use pre-tax or employer subsidized transit benefits to pay for the vanpool cost
Potential savings on personal auto insurance
Faster commute by using the high-occupancy vehicle (HOV) lanes and much more
To learn more about how you can register for a vanpool and start taking advantage of these incentives, sign up at JoinAVanpool.com.
Photo Credit: Sam Kittner/Kittner.com for Arlington Transportation Partners