It's no secret the DC region has become a hot bed for quality talent, Arlington and DC were both recently ranked as top destinations for recent college graduates. For employers in the area, this competitive market has made it a challenge to attract and retain the best employees. With employee turnover costing companies nearly 150% of an employee's salary to replace them, keeping employees from leaving is a critical component of a business' bottom line.
While higher salaries can have a significant impact on retention, there are many programs that can have a positive effect on an employee's quality of life. Small businesses and nonprofits that aren't always able to increase salaries can still retain quality employees through lower cost benefits that help staff save money, improve mental and physical health and increase productivity and satisfaction.
Check out these seven ways to improve employee retention at your company.
1. Offer a direct transit benefit
While many companies already offer a pre-tax transit benefit to employees, providing a financial subsidy of up to $255 per month for employees to use for commuting on public transit can set an employer apart from the rest. A direct transit benefit puts more money in employees' pockets and can also save companies up to $1,700 per participating employee.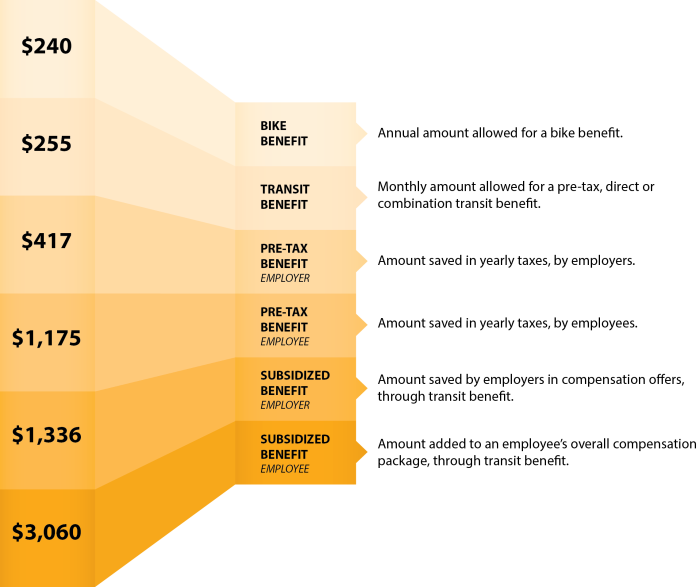 2. Offer secure bike parking
For employees that bike to work, a secured access bike parking area can give them the peace of mind that their bike is safe during the workday. It also creates a designated area for people to put their bikes instead of taking up space in an office or locking it to a pole outside. Most building garages aren't fully occupied during the work week – talk to the property management or garage operator about converting unused space into bike parking for tenants.
For even more helpful tips on how to attract and retain the best talent for your business, download our full guide.