The commercial vacancy rate in the Rosslyn-Ballston corridor has been on the decline after reaching its peak at the beginning of 2015. In fact, in the past two years it has dropped over four percentage points. While this is great news for Arlington's economy, more employers also mean more employees commuting.
The Rosslyn-Ballston corridor was developed around transit to accommodate large numbers of commuters traveling in from around the region. However, transportation options aren't the only factors dictating commuting behaviors.
To better understand what other factors are involved, Arlington County Commuter Services (ACCS) and Mobility Lab teamed up to report on commercial building transportation data collected between 2013 and 2015 in the 2016 Office Building Transportation Performance Monitoring Study. This report offers a snapshot of commuting behavior in Arlington using vehicle trip counts, parking-occupancy counts and surveys with property managers, employers and employees from 16 properties in the Rosslyn-Ballston corridor.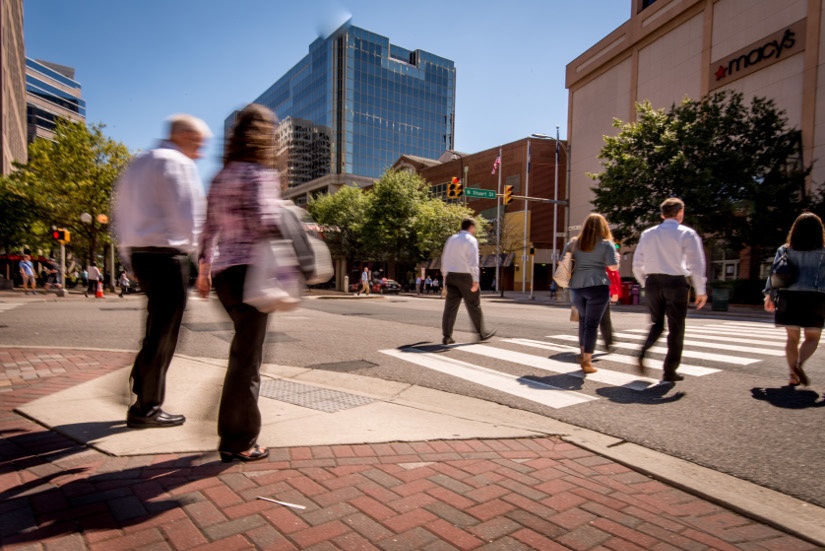 Free Parking Erodes Effect of Transit Benefits
The study found that when offered on its own, transit subsidies are an effective way to incentivize alternative transportation. However, when combined with a free parking subsidy, the effectiveness of this benefit in reducing single-occupancy vehicle (SOV) commutes is cut in half.
Space along this corridor is sold at a premium. Commercial rent in the Rosslyn-Ballston corridor tends to exceed $40 per square foot and the average cost for a parking permit in the buildings studied was $110 per month. Employers at these properties spend an estimated $3.5 million in parking subsidies every year.
Of course, there are some commuters in Arlington for whom alternative transportation methods are largely unrealistic. Forcing everyone out of their cars would likely, in my opinion, result in negative economic consequences. However, free parking actively encourages people to drive and does not hold SOV commuters responsible for the congestion and pollution they contribute to in Arlington County.
There is an Oversupply of Parking
Of the 16 building studies, the average parking lot occupancy rate did not exceed 85%, and one property was observed to have a lot that was half empty at one point during the week. On weekends, the occupancy rates were even lower.
This tells us that we have underutilized space along the dense Rosslyn-Ballston corridor. Mobility Lab proposes three possible transformations for oversupplied parking. Properties unwilling to reduce weekday parking availability, may also consider what uses their vacant parking lots could serve during off hours. For example, Crystal City holds Wednesday Night Spins, an indoor bike race, or the Arlington Civitan Open Air Market.
Vanpooling is an Underutilized Mode
Commercial spaces along the R-B corridor have excellent access to rail and bus service, in accordance with the transit-oriented development principles under which it was designed. However, many Arlington commuters do not live in communities with easy access to public transit.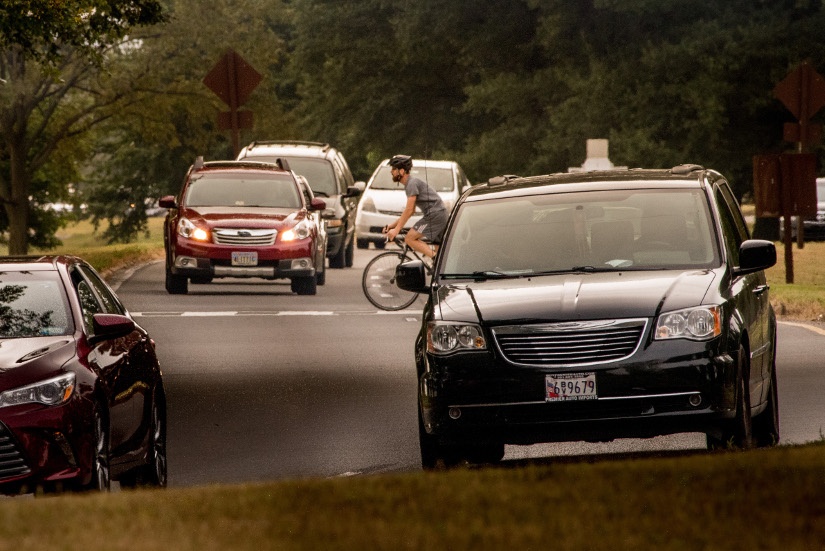 A workable solution for employees in this situation could be vanpooling and carpooling, which the study found was a popular option among those working for companies that incentivized this mode. In fact, 17% of employees who report access to carpool financial incentives take advantage of them. It's likely that commuters from the outer suburbs will increase their favorability towards ridesharing once the I-66 tolls go live in December.
For those interested in vanpooling, you can find more information here.
Improve Commutes to Your Organization
This data is immensely useful for those of us at Arlington County Commuter Services in trying to determine how to best reduce congestion in Arlington County. ATP's Property & Development Services program works directly with developers to promote and adopt alternative transportation, while also encouraging participation in the Champions recognition program.
If you drive to work, what would it take to get you to use another mode? If your employer successfully incentivized you to take a non-SOV commute, how do they do it? Leave your feedback in a comment below to help us keep improving, and join Champions to receive recognition for your efforts to making Arlington more sustainable.
Photo Credit: Sam Kittner/Kittner.com for Arlington Transportation Partners