Since joining Arlington Transportation Partners last week, my introduction to the world of transportation demand management has been a whirlwind thus far. I've attended the ACT 2013 Legislative Summit (PDF, 5.5 MB) on Capitol Hill, listened to Jeff Speck give an outstanding keynote presentation at the ACT Chesapeake Chapter's symposium on "Achieving Sustainability through TDM," engaged in a thought-provoking Kaiser Permanente Center for Total Health event on "Transportation and Health" with Ted Eytan, and helped prepare for and carry out ATP's programming on National Walk at Lunch Day, all-the-while learning the ins and outs of my new job from my impressive and dedicated colleagues. Needless to say, it is has been an eventful time to join Arlington Transportation Partners!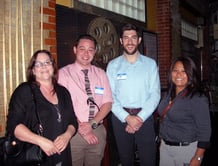 Coming from an environmental policy background, I had been introduced to smart growth and new urbanism concepts but I had not come across the term Transportation Demand Management (TDM). As I'm sure you can imagine, I've been playing a bit of catch-up and trying to learn as much as I can about the tenets of TDM. From my understanding, the TDM school of thought evolved as a response to the "If you build it, they will come" mentality of endlessly building and expanding roads only for them to become woefully inadequate for ever-increasing numbers of single occupancy vehicles (SOVs). Sure, mass transit options exist in metropolitan areas but how can you broaden a person's transit-worldview so that he or she accounts for all of the externalities that are routinely discounted by our car-centric society?
Enter TDM.
Transportation demand management aims to increase access and mobility by educating citizens about their transit options through outreach, incentives, and collaborative partnerships. Through these efforts, ATP has been successful in cost-effectively and significantly reducing the number of SOVs on Arlington's roads every day. Here at Arlington Transportation Partners, we are driven by the vision of a sustainable, resilient, and adaptable multimodal transport system that allows for congestion free roads. Idealistic you say? Not quite. Armed with the research provided by our sister organization, Mobility Lab, ATP is capable of encouraging Arlingtonians to adopt a car-free or car-lite lifestyle. Since moving to the area, I am proud to say that I am commuting ~13 miles a day by bicycle. Here at Arlington Transportation Partners, we practice what we preach.
So what are you doing to modify your commute? Let ATP assist you in making your transportation simple!