Last week, the Association for Commuter Transportation's (ACT) held their International Conference in New Orleans and the Big Easy didn't disappoint. Having previously only spent one business day in New Orleans, I wasn't sure what else I'd experience besides beads, jazz, seafood and hot-heavy-humid air. I certainly didn't expect to become smitten with a city that continues to rebuild itself after Hurricane Katrina, resulting in one of the most severe humanitarian efforts in US history.
New Orleans as a Transportation City
New Orleans is a very interesting transportation city for a myriad of reasons. Did you know that it has the fourth largest port system in the world and the fourth largest rail hub in the United States? Between the historical streetcars, ferries, buses and paratransit to Amtrak, the New Orleans Regional Transit Authority has built a great multi-modal experience which is further compounded with pedicabs in the French Quarter, and gondolas in the City Park. And let's not forget the bike lanes that were added after Katrina; with 80% of the city underwater, many of the streets had to be completely rebuilt, allowing for New Orleans to add active transportation infrastructure during reconstruction. But by far, I would consider New Orleans a city meant for walking. Many of the neighborhood streets are narrow, forcing drivers to travel at slower speeds and everything is close together making it easy to navigate IF the windy Mississippi doesn't throw off your bearings.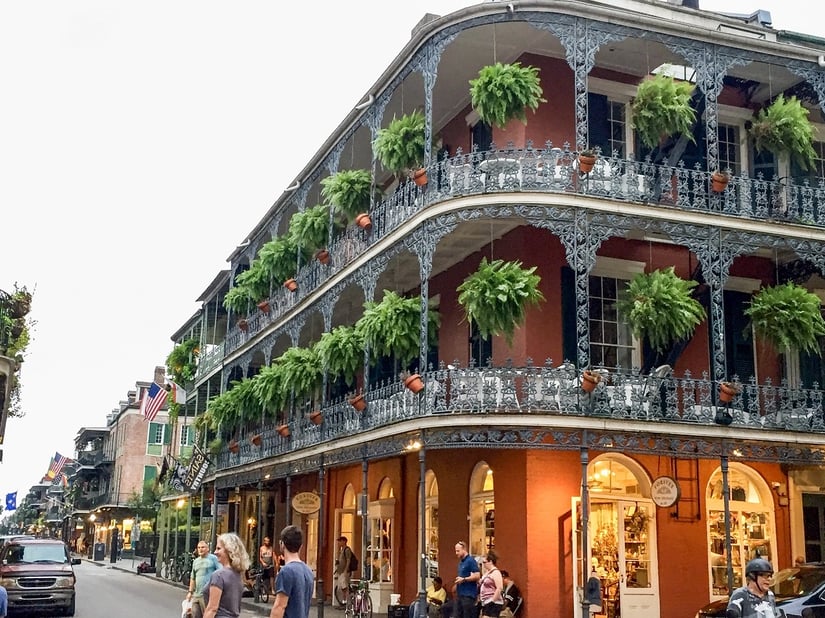 Conference Rewind
The conference kicked off with a fabulous New Orleans-style opening ceremony that included a jazz band, escorting us into the Sheraton's Grand Ballroom. Outside of the opportunity to network, the highlight of the night was not having to choose between oysters served on the half shell, chargrilled, Rockefeller or Bienville style. All of the above, please!
Jeffrey Tumlin – Nelson/Nygaard
This year's general session provided diversity and a balanced mix of strategy, marketing and lessons learned. Nelson Nygaard's Principal and Director of Strategy, Jeffrey Tumlin, was the first keynote and is no stranger to the importance of implementing TDM concepts. Many of his comments were met with a lot of nods in agreement: "When your city is growing and your transportation system is fixed you have no choice but to look at efficiencies." YES. "Build a business case for TDM." YES. He also shook things up by stating parking minimums make it illegal – yes, illegal to practice real mode shift TDM principals in communities. And there was audible buzzing when he predicted traditional "transit will go bankrupt in the next 15 years" if they don't figure out a way to incorporate automated vehicles or the pension meltdown affecting many of our communities.
Tiffany Sauder – Element Three
Tiffany Sauder, President of Element Three, shared her take on generational differences in marketing messaging. As a Gen Xer, I don't mind not being a part of the over generalization that happens to Baby Boomers or Millennials, but I'm looking forward to how organizations can focus less on our generational differences and more on how our transportation messaging can align different generations.
Liz Levin – Author of Boots on the Ground, Flats in the Boardroom
The luncheon discussion featured Liz Levin and LaVerne Francis Reid – two women pioneers of the transportation industry. From their discussion, I gathered the importance of working with people or companies that reflect YOUR values and how success in new situations can come from building on trust/acting trustworthy. If you want to read about their experiences and 16 other women, check out their book Boots on the Ground, Flats in the Boardroom.
Other sessions provided a variety of learning opportunities including but not exclusive to automated vehicles, behavior change, mobility on demand, quantifying TDM, commuter benefits, policies & ordinances, marketing, parking strategies, technology, bikesharing, vanpooling reporting and teleworking.
There were over 500 attendees for this conference proving as an industry, TDM's partnerships are expanding and our programming reflects the increase. So much so that ACT has decided to continue promoting more events and opportunities like the TDM Forum this fall in Las Vegas and the launch of ImpACT, a new leadership development program geared for early to mid-level professionals with 2-5 years of experience in TDM.
Tours, Jazz and Oyster – Oh My!
ACT Private Tours
All work and no play is not good for the soul. It also makes for a very long conference and New Orleans isn't short on play. I participated in a private tour 10 Years After Katrina, set up by the Association with New Orleans native Lynn Dupont, Principal Planner at the Regional Planning Commission. The tour was insightful, entertaining and at times somber while we visited many of the neighborhoods including those adjacent to the levee-breaching Lake Pontchartrain. To this day, many of these neighborhoods are still rebuilding from Katrina's devastation. Although rebuilding has provided many parts of New Orleans to reinvent itself, the process is slow going due to politics and the fact that FEMA is still holding millions of dollars of funding due to red tape and fixed policies that address emergency management.
Jazz Recommendations
On a more festive note, I was in my element with the variety and amount of music everywhere. If your time is tight and you want to take in some jazz, I recommend waiting in line for one of the nightly shows at Preservation Hall in the French Quarter. I owe it to my colleague for inviting me along and for adding When You're Smiling to my bedtime routine song list with my son. You also can't go wrong walking over to The Spotted Cat Music Club on Frenchmen Street. I could have stayed all night listening to the Smoking Time Jazz Club and watching the swing dancers that undoubtedly follow this band around town for their weekly standing shows. Bourbon Street was checked off the list early on but in the future I'll skip it all together. Chalk that decision up to age and wisdom.
Program Recognition
I would be remiss not to mention that our very own Arlington Transportation Partners left the conference with more awards to showcase! I'm proud to share that ATP was awarded the Vanpool Commuting Options Award for our Vanpool Connect program and I was recognized for my service to the TDM industry. Had I known I was going to receive an award, maybe I wouldn't have offered to blog about the conference (blushing). I would like to formally thank the Association for recognizing our work, as well as Arlington County and all of our partners and collaborators for their great support. Without it, we wouldn't have the opportunity to strive for excellence in Arlington County, and in the region.
Don't Forget About the Oysters
Before heading to the airport, I walked over to Felix's Restaurant & Oyster Bar for a lunch of the LARGEST oysters I've seen and eaten in my life (sunglasses shown for scale).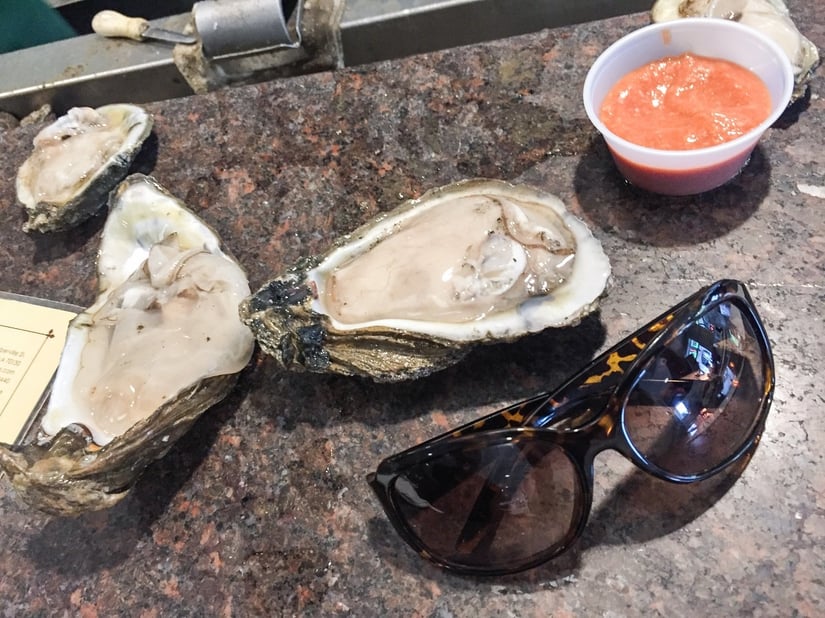 I felt content about the great transportation information I was able to bring back for colleagues along with a desire to "pass a good time" again soon in this city. And there's no greater compliment to a city in my book than thinking about the next trip before you even leave.
Laissez Les Bon Temps Rouler, Let the Good Times roll, New Orleans!
*Full disclosure – I am an At-Large Board Member for ACT.
Photo Credit: Wendy Duren for Arlington Transportation Partners