If your organization is looking for another way to get your name out there, consider adopting an ART bus stop that is closest to you. It shows you are doing really great things to improve Arlington County by maintaining a community feature and promoting alternative modes of transportation.
If you have spent any time in Arlington, you have noticed the green ART buses crisscrossing the County. All those bus stops have to be cared for to encourage ridership. Arlington residents and businesses have the opportunity to step in and help out by adopting an ART bus stop.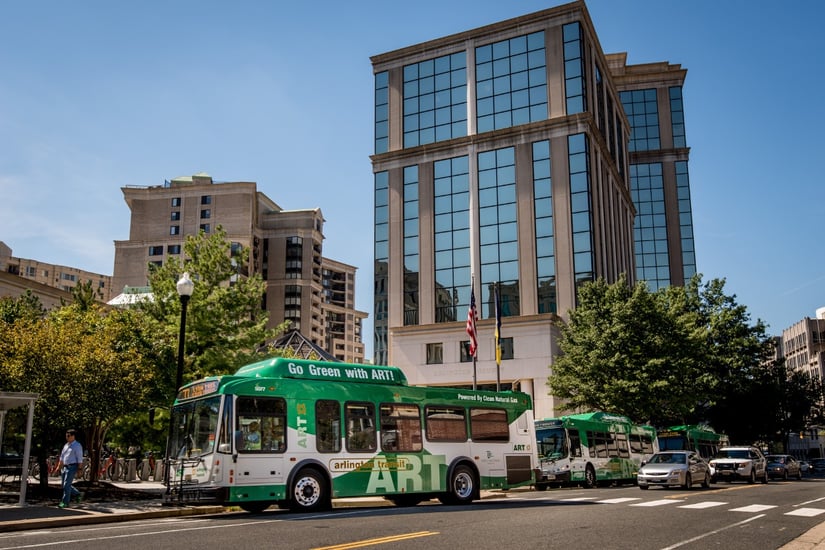 Adopting one of the available bus stops means that you agree to pick up trash around it, report graffiti or serious damage and clear a path to it when it snows.
Arlington Transit hangs a plaque on your bus stop recognizing you as the adopter. That means that anyone using or passing by that stop sees your company's name and knows that you care about your community. It also signifies your organization as a leader in promoting sustainable transportation options.
In addition, adopting an ART bus stop is an easy Silver Level Champions activity. If you are looking for an easy, positive and public way to move up Champions levels, this is it.
Are you now shouting, "Yes, sign me up! What do I do next?" Good, here are the steps:
Fill out and submit the online registration form
Once approved, start maintaining your ART bus stop!
At any point, contact your Arlington Transportation Partners representative for any assistance and to get Champions credit once your organization has adopted the stop. As your company levels up in Champions, you receive increasingly more public recognition and awards for your commitment to promoting and implementing sustainable transportation.
Adopting an ART bus stop is a great way for businesses to be involved in the community. Don't wait for too long – another company might adopt your bus stop first! So, drop everything, view the available bus stops and fill out that application!
Interested in joining Champions and showing your organization's commitment to sustainable transportation? You'll be joining other employers, residential and commercial properties in Arlington County.
Photo Credit: Sam Kittner/Kittner.com