Earlier this spring, my girlfriend and I made plans to meet my Midwest-based family for a brief 4th of July getaway to Lake Placid/Adirondack region of New York. As a car-free couple living in Washington, DC, we began to strategize how exactly we would make the journey.
With no convenient airport to (cheaply) fly into, we initially looked into renting a car. Luckily, before doing that, inspiration occurred in the form of Amtrak, when we discovered there was a train station only 30 miles from Lake Placid. Having never traveled by train before, we jumped at the opportunity to try something new, especially when we noticed prices that could easily compete with the cost of gas and car rental.
So, we embarked on our first (non-commuting) train voyage. We left DC's Union Station at 3:15am (yes, AM) Wednesday morning, and arrived at New York City's Penn Station at around 6:30am. After killing 2 hours with Dunkin Donuts coffee and a rainy stroll through Midtown Manhattan, we boarded the Amtrak Adirondack line for a 6-hour ride to Westport, NY.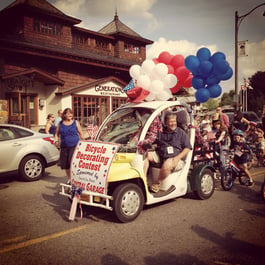 The Adirondack line is billed as one of the most beautiful train rides in the world – and lived up to the hype. The first 2 hours feature magnificent views of the Hudson River to the left, including a glimpse of the U.S. Military Academy in West Point, NY, followed by a great trip along the banks of Lake Champlain, bordering New York and Vermont.
Most importantly, we arrived on time to our destination, and were generally relaxed and ready to explore the Adirondacks. Thankfully, our hotel in Lake Placid had us within walking distance of many of the town's amenities, allowing us to explore the area by foot, as well as kayak. Lake Placid is a great little town, if you ever get the chance to visit. Perhaps the best thing about it was that it was a full 25 degrees cooler than in DC!
Our return trip on the train was just as enjoyable. The pickup at Westport station allowed us to get a glimpse of the dress-rehearsal for a local play – the station doubles as a community theater. On the route back to NYC we were treated to a beautiful sunset over the Hudson River, and used the free WiFi to begin our transition back into everyday life.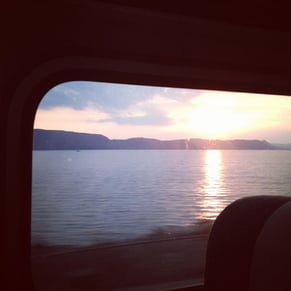 Here are some of my favorite aspects of rail-travel:
Nearlythe same cost as renting a car
A more authentic view of America: more mountains, lakes and small towns; less highways, billboards and truck stops.
People-watching, both on the train and at the station
Free WiFi, and electric outlets in every row!
Free time to read, write, play games, etc, instead of watching the road
For balance, here are a couple things that were not my favorite:
The 3:15am departure, coupled with my newly discovered inability to sleep on trains made for one very long day
Café Car food is not the greatest. I recommend packing your own snacks/meals!
In all, traveling by train can be an affordable way to see the country. It may not be the fastest mode of transportation, but it makes up for that in its unique ability to offer great scenery, comfort and low-stress travel.