You guys remember last year's race, right? Where we raced from Petworth to Rosslyn, testing different modes along the way? Well the whole gang was back together and we raced again, this time from Union Station and with a few new modes to show the spectrum of everything that's truly available in the Metro DC region.
The rules were the same, including a pre-race team selfie.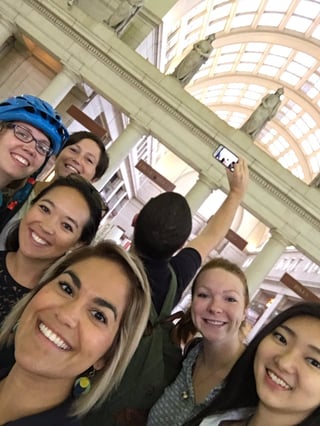 But just to recap, here are the official Amazing Commute Race rules:
Start in a location that encompasses all modes
Teams can go multimodal if it makes sense for the commute.
Provide updates for the live Twitter feed, the good and the bad
Teams have completed their route when they have arrived at their desk, in business clothes, ready to start the day
All teams end in Rosslyn, 1501 Wilson Boulevard
So what went down at 7am in Union Station this morning? Here's the recap, but let's just say there was a dark horse and winners from last year and this year were not the same. In our book, that's a good thing since it shows evolution of options and that sometimes a mode just has a bad day.
Racer Recap
6th Place - Capital Bikeshare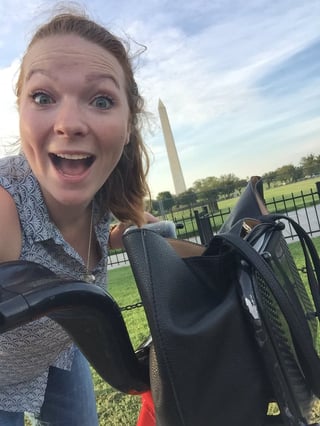 Racer: Christine Perlick of goDCgo

Mode: Capital Bikeshare > Walk

Total price of trip: $4 with no dock-surfing ($2 trip with $2 overage fee)

Time of entire trip: 61 minutes

Christine's take: I'm not a huge morning person, so I probably won't bike to work again – for time's sake. The beauty of Capital Bikeshare, though, is that even if I don't ride to work, I can still ride home from work. The ride itself was scenic and comfortable; I took a route that had lots of bike lanes and got to avoid traffic and congestion by taking the Mount Vernon Trail part of the way.

I'd classify myself as falling somewhere in between beginner and intermediate when it comes to biking, and I thought the trip was relatively easy (maybe a 6/10 difficulty). Highly recommend biking to/from work to anyone looking for an active way to avoid traffic and transit service disruptions, especially now during WMATA's SafeTrack schedule. Biking is also a great way to explore and feel more connected to this beautiful place we get to call home.

Trip details:
7:05AM: Took Louisiana to Pennsylvania Avenue, where I enjoyed the safety of the median bikeway.

7:28AM: Took a scenic loop around the White House to G Street, which I continued on past George Washington University until I hit Virginia Avenue NW.

7:45AM: Cycling past the Kennedy Center, I took the 66 bridge over into VA and along the beautiful Mount Vernon Trail until I hit Rosslyn.

7:58AM: I finished by docking on North Lynn Street and hiked up the hill to Wilson Boulevard. Almost the entire trip was on bike lanes and trails, I did encounter A LOT of stop lights though!

8:06AM: Arrived at the office
5th Place - DC Circulator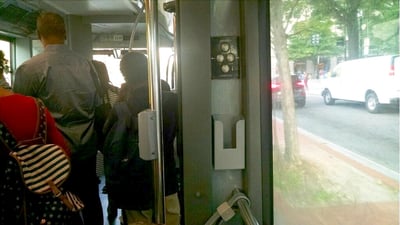 Racer: Grace of goDCgo
Mode: DC Circulator > Metrorail > Walk
Total price of trip: $2.65 ($1 DC Circulator, $1.65 Metro with 50-cent transfer discount)
Time of entire trip: 46 minutes
Grace's take: This was an easy, stress-free commute, although as Christy proves, it's normally faster to take Metrorail the whole way. The DC Circulator routes are marked by name instead of number so it was easy to hop on the Georgetown route, and the operator made clear, helpful announcements over the intercom as we cruised through traffic with limited stops.
The Circulator buses have bigger windows and a more open layout than other buses, which made for a bright, pleasant ride even as the bus filled up with commuters. I transferred to Metro at Farragut, which made the last couple miles a breeze since the Rosslyn tunnel beats traffic going over the bridges any day. This multimodal commute is a great back-up option for times the Metro is delayed or if I want to skip the congestion of the Metro Center transfer from the Red line.
If I wanted a cheaper trip or was dealing with major Metro delays, I could have easily transferred to another bus. The Circulator's Dupont-Rosslyn route or the 38B Metrobus route (Farragut Square to Ballston) are great options to bypass the Blue/Orange/Silver Lines.
Trip details:
7:05AM: Walked out of Union Station and across North Capitol

7:09AM: Arrived at the Circulator stop (North Capitol & Massachusetts) and saw on the real-time arrival display that the bus was expected to arrive in about 5 minutes

7:15AM: Boarded the Circulator (Union Station – Georgetown route)

7:35AM: Exited the Circulator at 17th & K Streets

7:37AM: Entered Farragut West Metro Station

7:44AM: Exited at Rosslyn Metro Station

7:51AM: Arrived at work
4th Place - UberPool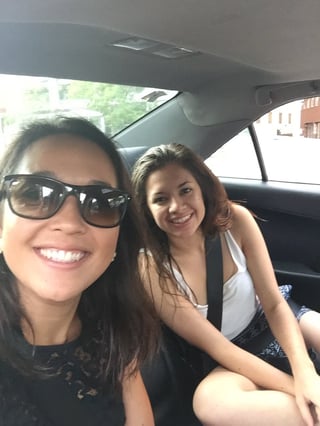 Racer: Keara of ATP
Mode: UberPool (Side note: I did request LyftLine first, but cancelled after seeing it was over a 10 minute wait and realized the ride would cost three times as much as UberPool.)
Total price of trip: $3
Time of entire trip: 40 minutes, which includes from when I first requested the ride to getting into the office. The UberPool ride itself was 33 minutes
Keara's take: The trip took longer than I expected and it would have been frustrating if I was in a rush or needed to get to work by a certain time. Plus, with the unpredictability of where other pool passengers might be picked up and dropped off, I probably wouldn't use it for everyday commuting. However, for only $3 flat, it definitely rivals Metro and the bus in terms of cost and is a pretty comfortable and convenient ride, especially if you have extra bags with you or want to get caught up on emails or check Twitter during the trip.
The trip probably took five minutes longer than it needed to since I had a fellow pool passenger, Amanda, who was very kind despite "having a rough night" and obliged to take a selfie with me. She was being dropped off at the Lincoln Memorial, which turns out is almost impossible with the different roads around there. So we ended taking a detour across Memorial Bridge and back before dropping her off, adding some time to my ride. I got a nice photo out of it though, and again, for only $3…
Overall, UberPool is a great option if you want to put the least amount of effort into your commute (no driving, biking, walking from Metro, etc – literally door to door and I just sat in the backseat), are not in a rush and want to have as cheap a trip as possible.
Trip details:
7:04AM: Ordered and then cancelled Lyft Line, requested UberPool

7:09AM: Got in UberPool

7:13AM: Took selfie with Amanda after awkward silence

7:26AM: Took a wrong turn and went across Memorial Bridge, but took lovely photo of a biker and a plane

7:30AM: Dropped Amanda off somewhere near the Lincoln Memorial

7:42AM: Arrived at 1501 Wilson

7:45AM: At my desk!
3rd Place - E-Assist Bike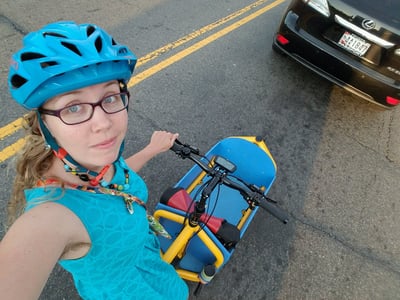 Racer: Erin of BikeArlington

Mode: Electric-Assist Cargo Bike AKA e-bike, which is a fancy way of saying the bike has a small motor that can amplify my pedaling power.

Total price of trip: Free (but e-bikes generally have a higher upfront purchase price than regular bikes)

Time of entire trip: 32 minutes at a leisurely pace

Erin's take: There are a lot of the positives of a normal bike carried over to the electric assist bike—door to door service, convenient parking and the general fun of riding through neat places and neighborhoods. It also has the added bonus of basically flattening hills, of which Rosslyn has a few. Having ridden from Union Station back to Arlington on my own bike and on Capital Bikeshare, I know the places that normally make me groan. There is something truly delightful about pedaling easily and zipping up Wilson Boulevard at the speed of car traffic, and the bemused smiles from folks watching. While I didn't come in first, I still felt like I should have made Usain Bolt's "To Di World" pointing pose upon arriving at the office.

If you're curious about biking, but have concerns about hills, longer distances and/or sweat, I would hands down recommend trying an e-bike. While it's not as much exercise as riding a regular bike, you're definitely still working out, as the bike won't move at all without you pedaling. Basically, you get all the benefits of biking, with the extra assurance that you can handle any kind of terrain with ease and not need to shower before work.

If you aren't sure about the financial commitment of an e-bike, but are still interested, you can try them out with Riide for a monthly membership fee.

Trip details:

7:11AM: At Constitution and Third Street NW to cruise along the mall. Pretty great luck with all the traffic lights so far.

7:15AM: Reached the Smithsonian Castle, stopped to take a picture, because it's great.

7:19AM: Waited awhile at the mall and 17th Street NW as it took me longer than it should have to realize that no one had pushed the pedestrian crossing signal.

7:24AM: High-fived a jogger on Memorial Bridge. Three cheers for exercise.

7:29AM: Reached the Netherlands Carillon and took in the great view.

7:32AM: Traffic snags in Rosslyn! Drat!

7:36AM: Bike locked safely in the garage. To the elevator!

7:39AM: At desk chatting with gold and silver about their journeys.
2nd Place - Metro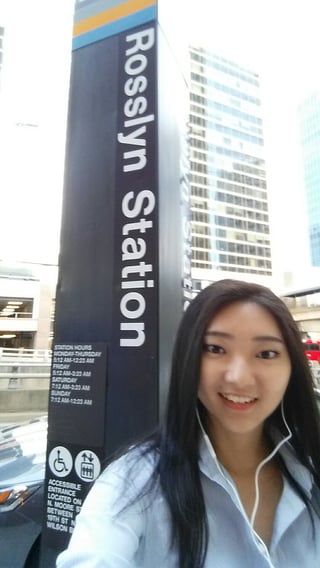 Racer: Christy of ATP

Mode: Metro > Walk

Total price of trip: $2.40

Time of entire trip: 28 minutes

Christy's take: Metro has good days too! Trains were on time and I had plenty of seats to choose from. Last year, Keara came in 4th place by taking Metro but factors like missed trains, service delays and packed cars can impact your commute. Leaving a few minutes early from home to pad my commute time makes Metro an easy daily option for me.

At both stations, the trains came as soon as I got onto the platform so there was hardly any wait time - catching the elevator in our office building actually took longer. Both Red and Orange Lines had about 15-20 people in the whole car, which is pretty typical for this time of commute. Plenty of space and time to catch up on your reading list, solve a few crossword puzzles or catch some zzzzz's.

Trip details:
7:05AM: The team went our separate ways and I headed towards the escalators onto the Union Station Metro platform. The Red Line to Shady Grove arrived just as I was walking over to a spot that I thought would be fastest for when I had to transfer at Metro Center. I hardly had to wait and I was moving the whole time.

7:15AM: My estimate was right and the doors of my car opened close to the escalators that go down to the lower platforms at Metro Center. I took a quick snap with the Metro Center sign before the Orange Line to Vienna rumbled in the tunnel and arrived.

7:23AM: I arrived at the lower platform of Rosslyn Station and went up to the upper level and started a brisk hop up the main escalators.

7:26AM: As I arrived at the top of the Rosslyn escalators, I caught my breath while taking another picture of station signage. I start walking up a gradual hill to our office building and the pedestrian lights were in my favor.

7:29AM: I arrived at our office building and the elevators took forever to get to the lobby. I got squished to the back and it nearly stopped at every floor. Waiting for the building elevator took longer than waiting for the Metro, but I made it to my desk at 7:33am.
1st Place - car2go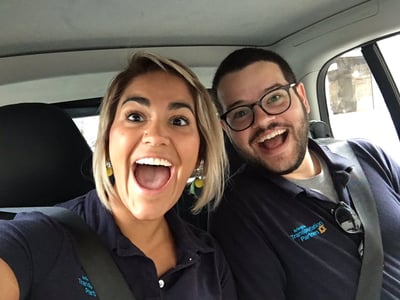 Racer: Jonathan & Maggie of ATP
Mode: car2go
Total price of trip: $8.38
Time of entire trip: 23 minutes
Jonathan's take: Using car2go proved to be the fastest commute option during the race, but that came at the cost of $8.38. Not unreasonable – but certainly not something you'd want to pay one-way twice a day every week when there are so many great options to choose from! However, it's always nice to have different modes available and car2go can be especially helpful on a rainy day or if you want to share the car/cost with a friend!
Trip details:
7:05am: Our trip began at Union Station with opening the car2go app and searching for nearby cars. There isn't much available parking directly adjacent to the station, so the nearest car ended up being on G Street NW just a short 5 minute walk away. The car2go gods were smiling upon us though, if that car hadn't been available we would have needed to trek 3-4 blocks to the nearest vehicle.

7:10am: Maggie and I hopped into the car2go and adjusted the mirrors and seats to our specifications. We used Google Maps to chart our way to Rosslyn since both of us don't own cars and we needed a little help.

7:18am: We hit some heavy traffic (likely due to single occupancy vehicles, thankfully we were carpooling!) when merging onto I-395 South that eventually let up after we crossed the 14th Street bridge since you can cross jurisdictions now with car2go. From there it was smooth driving down I-110 into Rosslyn.

7:26am: We parked the car2go in a metered parking area right in front of our building since you don't need to pay the meter with car2go. After ending the car2go trip we headed inside to reach our seats at 7:28am.
Best Mode for Your Commute
So there you have it, all the winners! But what really turned out to be the best mode? Here's a chart of cost and time for each mode where we've highlighted the fastest/slowest time and the cheapest/most expensive ride. It's all about context and the best option for YOU on any given day.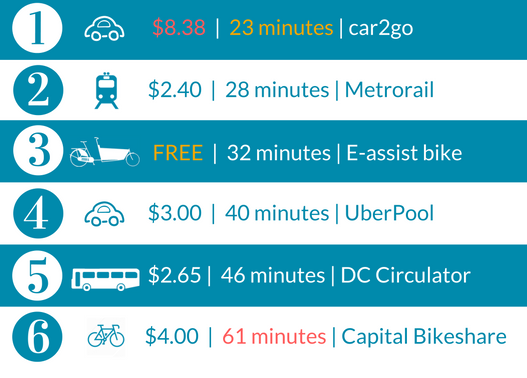 The point of this exercise, above all else, is to highlight the different modes that are available to a commuter on any given day. So if your first mode doesn't work, have a back-up and then have a back-up to your back-up. If you've learned nothing else here today, you at least know 6 different ways to get from Union Station to Rosslyn.