This Spring has been a boon for positive bicycling news in the DC/Arlington area, and it only got better with Bike to Work Day last Friday. The day was a huge success, with a record number of participants bicycling to work and stopping at over 50 pit stops in the region. 12,700 registered riders took part in in the area's BTWD, with over 2,000 riders stopping at one of the three Arlington pit stops in Rosslyn, Ballston, and Crystal City. In addition, we're proud to say that Rosslyn was the number one pit stop in the DC Metro region with nearly 1,000 riders stopping by on their way work! The Ballston and Crystal City pit stops also had the fifth and sixth highest number of riders, respectively, making Arlington one of the most popular jurisdictions on Friday.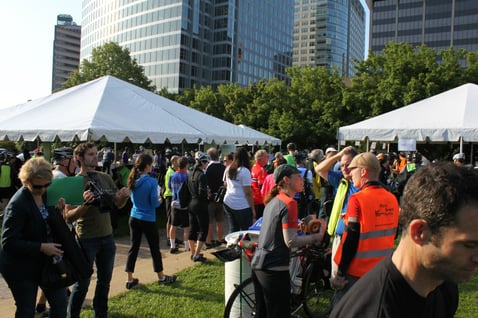 If you happened to stop by the Rosslyn or Ballston pit stops, chances are you saw the ATP staff working hard to make BTWD a fun and enjoyable experience. We had a great time talking with commuters and handing out freebies such as bike lights, sunscreen, water bottles, and yes, we were that annoying (awesome) table with the vuvuzelas. Representative Jim Moran also took the time to stop by in Rosslyn (on his bike!) to take part in the festivities and chat with other riders. Finally, if biking alone wasn't enough to wake riders up for work, there were DJs, snacks and coffee for riders, unicycle performers, and of course, excited and alert ATP staff members there to greet riders. Honestly, we wish BTWD was every week…who wouldn't want to start off their Friday with a huge bicycling bash? You can check out more photos of the event at BikeArlington's Facebook page.
The great turnout of both new and experienced bicyclists at BTWD is only more evidence of the growing popularity of bicycling in the DC region. Bicycling Magazine recently ranked DC #4 and Arlington #23 in the top cities for bicycling. In addition, Capital Bikeshare hit its two millionth ride on May 17th, and will likely continue to break ridership records as summer approaches.
We hope that BTWD provided a chance for new riders to give bike commuting a try and even encourage them to bike on a more regular basis. As for experienced riders, many participants mentioned that it was a great opportunity for them to promote cycling among coworkers and friends and were appreciative of the widespread efforts to make BTWD a popular and successful annual event.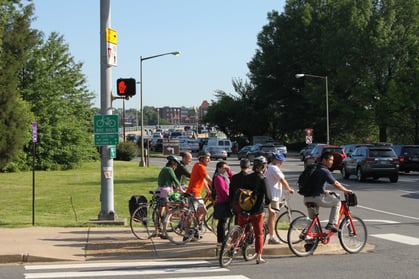 Did you participate in Bike to Work Day? Let us know what you thought! Also be sure to contact ATP for more info about programs such as the Bicycle Commuter Benefit and Bike Friendly Businesses!